Father's Day Q&A With WWE Superstar Titus O'Neil
When Titus O'Neil isn't entertaining millions of fans around the world for WWE, he can often be found in the community doing good. Whether it's helping a food bank, donating to the less fortunate, hosting movie screenings to underprivileged kids, the Florida Gators football player turned pro wrestling superstar is constantly giving back.
And somehow, he finds the time to spend quality time with his two sons. The Raw superstar has never shied away from his origin story. His mom was raped at age 11, giving birth to him at age 12. Without a father, O'Neil [real name Thaddeus Bullard] had his trajectory changed for the better thanks to the Florida Sheriffs Boys Ranch.
He uses these types of experiences to inspire others to work through life struggles and realize their dreams. The 41-year-old instills this positive message to his young boys Titus and Thaddeus Jr. His parental efforts were featured on ad campaigns and through recognition of awards such as being the 2015 MEGA Celebrity Dad of the Year.
In honor of Father's Day, we sat down with the leader of "Titus Worldwide" for a dadly Q&A.
What is the key to being a good father, especially someone like yourself who has such a busy schedule, and finding time for your sons?
Titus O'Neil: I think being present, both when you're in their presence and away from them. Constant communication, consistent communication. The main thing with any type of relationship in life is being consistent. I'm very consistent with my kids, both in communication and the way we interact with one another.
It's a very healthy relationship. They don't fear coming to talk to me about anything because since they were babies I've always told them to come to me. I don't care how truthful it is or how much they have to vent. I rather me be the sounding board than they go find some strangers who will give them some ridiculous advice.
https://www.instagram.com/p/BhPwps1hCD1/?hl=en&taken-by=titusoneilwwe
What is it like raising teenage boys in this type of world we live in today? Do you find it more challenging than when you were growing up?
No. I think from a technology standpoint it is more challenging because I'm not a tech guy. My kids are very good kids. They know the difference between right and wrong. They don't fear getting a spanking in any way because I've never really spanked them. They fear disappointing me more than anything. That's my biggest fear too. I don't want to disappoint them and let them down. There are a lot of challenges in school, but there have always been challenges in schools. It's more because of social media and technology and people having more access to expose it.
My kids live and abide by the three rules in our home. Rule one is to love and respect everyone you come in contact with. You may not agree with them or like them, but you love them and respect them.
Rule number two is don't use the word can't. Rule three is do your best. As long as you bring your best, me or yourself can never be disappointed. They take that and run with it. They're very competitive on the sports field and in real life. They are competitive academically. My son both of them have been in good school cultures that have allowed them to be around phenomenal students and teachers. My oldest, he is going to be going to high school. Berkeley Preparatory School, which is one of the top schools in the country. To get accepted into the school to me is like getting accepted into college. They want to be great.
A lot of kids out there want to be great, but like myself, they didn't have the resources to do that. It's why I try to stay as active as I can and bring those resources to those less fortunate.
Growing up without a biological father, who was the first person you took you under their wing and took on that role for you?
Mr. Charles Blalock. He was superintendent of schools up in Suwanee County. Him and a guy name Patrick Minogue, who was form the Florida Sheriff's Boys Ranch. Patrick passed away in 1997, but he got to see me graduate from high school and sign my college letter of intent from the University of Florida. He got to see me become young man. Mr. Blalock is still alive and active in my life.
Those were the first two impressions of a father and what a father should be to me. One was white, and one was black, so I never saw fatherhood as a color thing. Definitely culturally, we all have things that are different with us. If I wanted soul food I would go to Mr. Blalock's house. If I wanted a good casserole, I would go to Mr. Minogue 's house. I had the best of both worlds in that regards too.
A couple of weeks ago you had that big "Titus World Slide' incident at the Greatest Royal Rumble. Talk about it from a parenting perspective, you kind of turned a negative into a positive and a sort of teaching moment.
My boys called me and immediately asked if I was okay. I said yes. Then they started dying laughing, and I did too. I told them I just saw them fall just before I left the house. They fell up the stairs. The only difference between my fall and their fall was that mine was in front of millions of people.
But I got back up. My youngest turned around and said, 'I got back up too.' We just laughed it off. I tell them how I approach anything. No matter what is dealt to me, I work my way through it. I'm human. People fall all the time daily. It just happened to me with an audience.
https://www.instagram.com/p/Bj8I2F8hMfw/?hl=en&taken-by=titusoneilwwe
You're very active on social media with Dave Bautista. What bonded you two?
We just had a genuine respect for each other. We were neighbors from a long time and I remember one time I went to the gym and saw him one time, and we actually talked about fatherhood. My kids and his kids. I asked him to speak to my kids' preschool class. I think they were two and four at the time. He did it, and it was a great moment for my kids and the kids in the classroom. It opened up a longstanding relationship between me and him. It's built on genuinely love and respect of what we bring to the table.
You were recently on set with him for Stuber. It was because you were on set as a visitor or part of the project?
Maybe a little of both. I enjoyed seeing his growth as a performer and seeing the success he has in Hollywood. He has tons of projects coming out, and I have aspirations to be in film as well. Particularly, Marvel. I'm just sitting them soaking everything in and meeting folks. There are some real possibilities for me. I'm hoping to take advantage of them in the near future.
Watch WWE Raw 8/7c Mondays on USA Network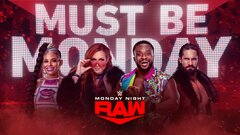 WWE Raw
where to stream
Powered by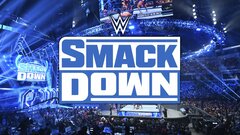 Powered by