Tom Selleck Reflects on His Biggest TV Roles & Shares 'Blue Bloods' Scoop
If he weren't an imposing 6-foot-4, you might almost pass the guy with the salt-and-pepper scruff wearing a checked shirt, jeans and workaday boots and not realize he's Tom Selleck, one of TV's most enduring icons.
The only celebrity tell: a vintage Rolex Daytona watch he bought himself when his current hit, Blue Bloods, tied his first, Magnum, P.I., in total episodes aired. "An acting coach I had used to say, 'You've got to celebrate your wins,'" he recalls. "This is a win."
The self-described "worker bee" is a man of many wins. Twelve days before he turned 73 this January — an age he says wife Jillie Mack Selleck had to prompt him to remember — he received a prestigious Brandon Tartikoff Legacy Award honoring his 50-year body of television work. That level of achievement must have seemed impossible back in 1970, when the handsome up-and-comer appeared in his first commercial. Selleck had no lines in the spot for Safeguard soap with Teri Garr and Penny Marshall — but he did lather up onscreen.
He also sold Pepsi, cars, and cigars, often alongside sexy actresses. As for a 1977 Close-Up toothpaste campaign, "The dialogue was humiliating!" Selleck recalls. "A stewardess comes up and I say, 'After this flying delicatessen, my fiancée may give me back the ring!' I blew on my hand, smelled my breath and said, 'I'd better brush my teeth.' I thought it was stupid, but they used me in national commercials that paid 10 grand each time they ran."
Today, Selleck has come to L.A. from his ranch an hour or two away to share his infectious passion for the medium — but before digging in, he wants to address this fall's Magnum reboot, starring Jay Hernandez and produced by Peter Lenkov, who reworked Hawaii Five-0 and MacGyver. (Selleck had tried unsuccessfully to do a movie version with writer Tom Clancy attached in the early 1990s.)
Though Selleck was asked if he wanted to be part of the new CBS project, he demurred. While acknowledging, "Fans would like a guest spot from me," he says, Magnum 2.0 "will never be what in my fantasy world I would make it to be. I just stepped back and said, 'I won't get in the way.' I have an obligation to my version, and Peter's going to do his own take, but I wish them the best." Meanwhile, here's Selleck's take on some of his résumé's most memorable entries.
The Sacketts
A decade after his series acting debut in Lancer, a forgettable 1969 Western, this two-night Louis L'Amour adaptation about three brothers in the post–Civil War West got Selleck hooked on horse operas. "The Sacketts was a huge deal for me. I didn't grow up on a ranch. I had to learn to ride," he says of the NBC hit. "I got to work with Sam Elliott, Ben Johnson and Glenn Ford, and I got to know Louis." Selleck had found a genre that satisfied him emotionally ("That I could fit into this world is so gratifying. [Westerns are] what I grew up on. I've always felt I was born in the wrong time") and financially: TV-movie follow-ups like The Shadow Riders, Last Stand at Saber River and L'Amour's Crossfire Trail all scored big.
Friends
His popularity as Dr. Richard Burke, the debonair older ophthalmologist boyfriend of Monica Geller (Courteney Cox) on the beloved NBC sitcom, boosted a three-episode stint into 10 (1996–2000). He recalls being warned that, given his growing movie career, accepting the role "would look like I was crawling back to television. I liked the show and I liked Courteney, because I did a screen test with her for [the 1992 flick] Folks!" Plus, with no sitcom roles since Taxi in 1978, "it kind of scared me, so I took the job."
Ike: Countdown to D-Day
"I learned a lot about being a leader," he says of playing Gen. Dwight Eisenhower in the well-received 2004 A&E biopic. Selleck also demonstrated his clout: "I got us an extra day on the movie because it got dark during the most important and moving scene. Ike goes out to the airfield to send off the troops—it makes me cry talking about it — [knowing] there's 80 percent casualties, so he's looking at a lot of dead men."
Jesse Stone
The late author Robert B. Parker's indelible character, a hard-drinking, solitary police chief who sought peace in Paradise, Massachusetts, and instead found lots of evil, gave Selleck a hot franchise — and TV movie No. 10 is on the way! (Selleck and cowriter Michael Brandman are working on the script, with an expected 2019 airdate.) The first eight ran on CBS starting in 2005; after the series was canceled despite drawing nearly 13 million viewers, Hallmark Channel came calling. "We have the same production values," Selleck notes. "I just wish they'd let me say 'son of a bitch' a little more. It's hard to make an adult show that has the darkness of Jesse Stone and say, 'Oh, fudge!'"
Blue Bloods
Selleck is immensely proud that his CBS cop drama, which debuted in 2010, is a favorite with the NYPD and a consistent Friday-night ratings winner. He credits his push to emphasize the people over the procedural: "That was, to me, the lesson of Magnum. I was not ever tired of it." For most fans, family dinners at Police Commissioner Frank Reagan's house are the sweet spot. "That was our first scene filmed," Selleck reminisces. "It was 'How do you do, you're my daughter,' 'How do you do, you're my younger son….' I was scared. They seemed really together — because they're good actors. In reality, we were all anxious."
And for anxious fans, he offers a few tidbits from Season 9. Due to the murder of her boss, ADA Erin Reagan (Bridget Moynahan) "is going to move up. The buck will stop more at her desk," Selleck says. One by-product: She and her dad "will be increasingly at odds."
Now that his youngest, Jamie (Will Estes), is engaged to patrol partner Eddie Janko (Vanessa Ray), "Frank doesn't want him to be the first in NYPD history to ride with their fiancée," Selleck notes. "Most cops would say it could affect one's judgment. Frank wants his son to be happy, and yet he's got this hyperactive sense of responsibility. He already lost one son in the line of duty."
Asked about widower Frank also finding love, Selleck says he's "thrilled" to have Bebe Neuwirth back as NYC counsel Kelly Peterson. Will their sparks intensify? Well, who can resist Tom Selleck?
To find out more about Selleck's experiences on shows like Magnum P.I. and The Rockford Files, pick up the latest issue of TV Guide Magazine, on newsstands Thursday, June 21.
Blue Bloods, Fridays, Fall 2018, 10/9c, CBS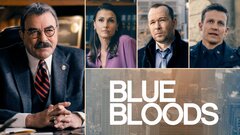 Powered by