WATCH: Drake Features Epic 'Degrassi' Reunion in New Music Video
If you're a true Drake fan, you know he started out in the entertainment business when he was 15 years old as an actor on the Canadian teen soap series, Degrassi: The Next Generation (he was credited as Aubrey Graham in the days before he became more famous as a music star using just his middle name).
He played Jimmy Brooks, a high-school basketball star who became paralyzed from the waist down after being shot by a classmate. Drake was on 145 episodes of the series, from 2001-2009.
As a homage to his humble beginnings, the Grammy-winning rapper featured his former castmates in the new music video for his latest single "I'm Upset," directed by Karena Evans. The actors are all seen partying in the gym at Degrassi Community High, then spotted dancing in hallways.
You can see the following actors in the video: Shane Kippel (Spinner), Nina Dobrev (Mia Jones), Stacey Farber (Ellie Nash), Jake Epstein (Craig Manning), Lauren Collins (Paige Michalchuk), A.J. Saudin (Connor DeLaurier), Adamo Ruggiero (Marco Del Rossi), Miriam MacDonald (Emma Nelson) and Cassie Steele (Manny Santos).
Also featured are Jason Mewes and Kevin Smith (Jay and Silent Bob), Stefan Brogren (principal Archie "Snake" Simpson), and Ephraim Ellis (Rick Murray).
Kippel wrote on Instagram: "When I got the call that @champagnepapi had this idea for his next video, the feeling was hard to describe. When it became real and I further found out that it was a complete @degrassi cast reunion, it suddenly became very clear that this would be a weekend for the history books."
Many of the other cast took to social media to post about the reunion:
Watch the video below: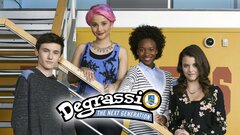 Powered by