Viola Davis Gets Real in 'Last Defense,' Return of 'Bold Type,' 'Face Off'
A selective critical checklist of notable Tuesday TV:
The Last Defense (10/9c, ABC): Having explored flaws in the justice system in a fictional manner on How to Get Away With Murder, when Annalise Keating argued before the Supreme Court in a spring Scandal crossover with Kerry Washington, Emmy winner Viola Davis now focuses on two real-life death-row cases in a docu-series she's executive producing with husband Julius Tennon. The Last Defense opens with a look at the case of Darlie Routier, a Dallas housewife sentenced to death after the stabbing murders of her two sons in 1996. Later in the season, the series will look at the 2001 conviction of Julius Josnes, a 21-year-old African-American scholarship college student, charged with the carjacking murder of a white father of two in Oklahoma.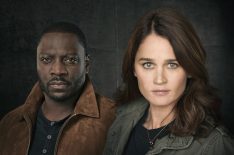 See Also
What are the new shows will you see on ABC later this year? We've got the full list by day.
The Bold Type (8/7c, Freeform): A second season opens with back-to-back episodes of the popular dramedy about three young women hoping to make it after all in the cutthroat world of Manhattan media. For Jane (Katie Stevens), that means posting her first high-profile profile, of a female CEO, for her new gig at the website Incite. There is, as is inevitable in a world of social media, blowback. Back at Scarlet magazine, fashion assistant Sutton (Meghann Fahy) considers going public in her relationship with higher-up Richard (Sam Page) when a new corporate policy gives them the green light. Romantic complications also confront social media director Kat (Aisha Dee) when she introduces girlfriend Adena (Nikohl Boosheri) to her parents.
See Also
The fan favorite series returns to Freeform on Tuesday, June 12.
Face Off: Battle Royale (9/8c, Syfy): I'm still in denial that one of my all-time favorite reality competition shows is now in its final season. The format brings back fan-favorite makeup artists to square off in head-to-head challenges, with two contestants eliminated every other week. In the first elimination episode, the fantastic collides with the mundane when the contestants are asked to create lighthearted monsters inspired by real-life day jobs. (Surely they're not referring to TV critics.)
See Also
Plus, a first look at the new season and a look back at 12 seasons of transformations.
Inside Tuesday TV: TNT's Animal Kingdom (9/8c) finds J (Finn Cole) rallying the rest of the Cole boys to keep the family business going, while momma Smurf (Ellen Barkin) works political angles behind bars in pursuit of a job… TV's trippiest fantasy drama, FX's Legion (10/9c), wraps its second season with David (Dan Stevens) fighting the future. We can try to interpret what it all means at a later date… Somewhat more grounded in its futuristic allegory, AMC's excellent sci-fi thriller Humans (10/9c) continues its third season with Max (Ivanno Jeremiah) dealing with the burden of leadership as he tries to keep peace among his conflicted "synth" troops.