WATCH: Heartbreaking Trailer for HBO's Robin Williams Doc 'Come Inside My Mind'
It's been almost four years since the world tragically lost comedic genius and Oscar-winning actor Robin Williams to suicide, and HBO is giving fans a look into his life with their new documentary, Robin Williams: Come Inside My Mind.
The doc, premiering July 16 on the premium network, will feature commentary from Williams himself, his children, and friends like Steve Martin, Lewis Black, and Billy Crystal. In the new trailer, the commentary from these fellow comedic actors paints a picture of what Williams was like off-stage.
See Also
The show's director and producer corroborate Dawber's remarks in a new biography.
From drugs and alcohol to abandonment issues, the film will explore the darker aspects of Williams' life, as well as the way he was seen by those closest to him. "On stage, he was the master, he was really comfortable on stage," Steve Martin reveals. "Off-stage — I just felt he was holding himself together."
The film also addresses the multi-talented star's issues with addiction, and explores his desire to find connection with others through comedy. Williams' son elaborates on his need to succeed, saying, "My father didn't always feel he was succeeding, but he was the most successful person I know."
This sneak peek teases another side of the iconic actor known for his TV role in Mork & Mindy, as well as many roles in film like the critically-lauded Good Will Hunting and Good Morning, Vietnam, or the beloved Mrs. Doubtfire and Dead Poets Society. Catch the full trailer below:
Robin Williams: Come Inside My Mind, Premieres Monday, July 16, HBO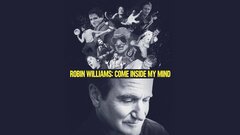 Powered by