Robin Williams' 'Mork & Mindy' Co-Star Pam Dawber Says He'd Grope Her on Set
The late beloved actor and comedian Robin Williams will soon be the subject of the biography, Robin, set to be released in May of this year.
Author Dave Itzkoff interviewed some of Williams' coworkers and more among which are Mork & Mindy star Pam Dawber, director Howard Storm, and the late Garry Marshall. Their portion of the book illustrates the icon's time on the late '70s and early '80s TV comedy, which sounds pretty nostalgic.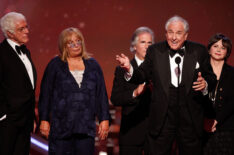 See Also
TV Insider critic Matt Roush pays tribute to the 'quadruple-threat' legend, who died on Tuesday.
That is, until excerpts from the biography were released this week, and the Daily Mail shared some shocking claims in the text—specifically from Dawber, who played the titular Mindy to Wiliams' Mork in the Happy Days ABC spinoff. Though the way she tells it, she wasn't bothered by his behavior in the least.
"I had the grossest things done to me by him," Dawber is quoted as saying in the book. "I never took offense. I mean I was flashed, humped, bumped, grabbed. I think he probably did it to a lot of people… but it was so much fun."
See Also
Plus, he's still on for E!'s Oscars red carpet this Sunday.
"But it was so much fun," isn't the typical response that most are used to in today's climate of the Time's Up movement and #MeToo, but Dawber chalks it up to the time. "If you put it on paper you would be appalled," said Dawber. "But somehow he had this guileless little thing that he would do—those sparkly eyes. He'd look at you, really playful, like a puppy, all of a sudden. And then he'd grab your tits and then run away. And somehow he could get away with it. It was the '70s, after all."
Sure it was the '70s, and unless others who worked with Williams come forward with similar allegations, it's possible he could have grown out of such behavior. Either way, fellow Mork & Mindy crew members, director Howard Storm and creator/producer Garry Marshall back up Dawber's claims of alleged inappropriate antics.
See Also
They're not in the pantheon of great TV couples. Heck, they're not even star-crossed lovers. But with a little imagination, these TV characters could have had red hot romances.
"He'd be doing a paragraph and in the middle of it he would just turn and grab her ass," said Storm. "Or grab a breast. And we'd start again. I'd say, 'Robin, there's nothing in the script that says you grab Pam's ass.' And he'd say: 'Oh, OK.'"
Marshall added, "He would take all his clothes off, he would be standing there totally naked and she was trying to act. His aim in life was to make Pam Dawber blush."