Meet Animal Prosthetist Derrick Campana, One of Animal Planet's 'Dodo Heroes'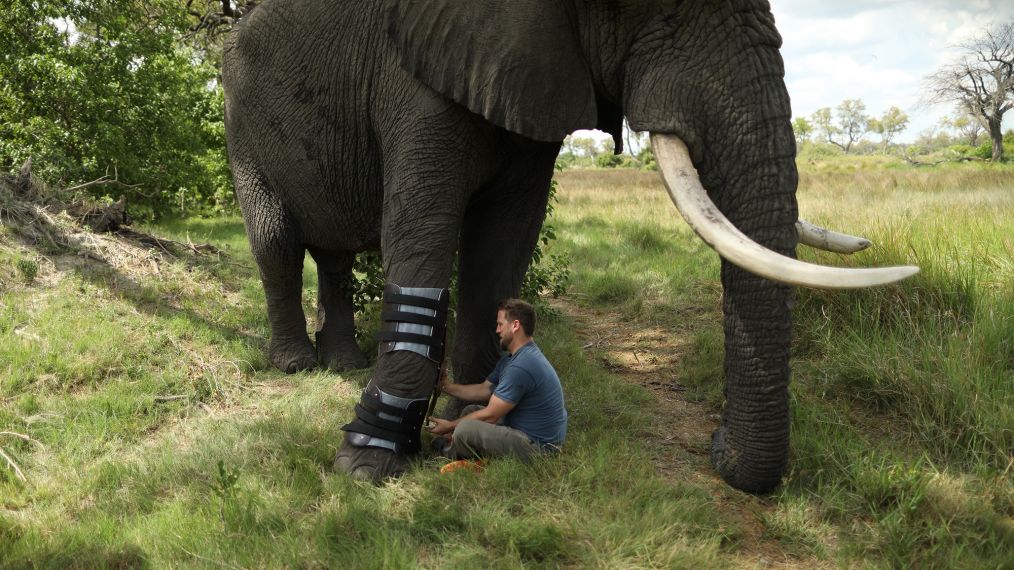 Animal Planet and popular online brand The Dodo have paired up to celebrate amazing people who've dedicated their lives to helping animals around the world. Each episode of their new series Dodo Heroes, debuting Saturday, introduces amazing animals in need and the courageous humans who help them.
Derrick Campana, who builds custom prosthetics for animals, is the subject of the series' June 9 series premiere. In that episode, Derrick travels to Botswana to fit an elephant named Jabu with a life-saving leg brace. Then, he fits four prosthetic legs onto Chi Chi, an adorable pooch rescued from a South Korean meat farm.
TV Insider recently spoke with Derrick about his inspiring occupation.
Derrick, what do you call what you do?
Derrick Campana: I call myself a pet prosthetist, or animal orthotist. I have made-up terms, really. But, I custom-build orthotic devices for animals of all kinds around the world.
How did you get started in prosthetics?
I went to Northwestern University Medical School for human orthotics and prosthetics, and I was working in the Washington D.C., area. A couple of years after that, a veterinarian came to my human office with a dog that needed a prosthesis, and I thought to myself, "This is so strange. I've never seen an animal prosthetic before."
And here was this dog that needed one, and a very kind owner that was willing to get the services done. I quickly Googled and I saw really no one was doing it, except maybe one guy a couple of months before. But fitting this prosthetic on this black lab named Charles was so fulfilling, even more so than many of the people I had ever fitted with a prosthesis, that I knew I wanted to do that for the rest of my life. So I started Animal OrthoCare almost 15 years ago.
See Also
The NBA star unwittingly thinks he's signed up for 'Shaq Week.'
So in these 15 years, how many animals have you helped?
I've helped close to 20,000 animals, give or take. I don't keep track too much, but that's my guesstimate.
What are some of the most unusual animals that you've helped?
Oh, geez. Gazelle, camels, obviously elephants, sheep, deer, goat, llamas, turtles, a bald eagle at one point. There are just so many. I could keep going, probably.
What's been your most challenging case?
Jabu's definitely up there. Just the sheer size, the sheer mass of him. So that's one of my, obviously, toughest builds ever. But actually, the really tiny patients—I did a crane at a zoo, and then this bald eagle I made some talons for—when they're really small, I don't have a lot of surface area to work with. So I hand-sculpt all of these molds, and the really tiny ones can be really challenging because of that issue. So it's kind of contrary to what you might think.
Jabu was difficult just because I had to outsource a lot of these components because our limb factory—what I like to call my workshop—doesn't have a big enough oven to heat up the plastic. So I had to find special places that would do certain parts for Jabu, so that was pretty crazy in itself.
What made Jabu's case especially challenging?
For one, he's on the other side of the world. He's out in the wild all day with different threats. He could step in a termite mound hole, or another bull elephant might want to attack him because they're trying to show dominance, and so if these things happen to Jabu, nature's going to take its course, and he can go down again, and it's a life-threatening injury, what he has.
If it's rainy season, he likes to mud-wallow, so it's not this domesticated animal you're just going to have in your house. He's out in the wild. He's in Botswana. There's always different threats you might not think of, just on top of, again, the sheer size of him and the magnitude of the build.
What was it like to fit a brace on such a massive animal?
I was feeling an enormous amount of stress before that critical moment where I put this brace on Jabu because so much effort and time and money was involved. If I put the brace on and it didn't fit, it didn't look the way I wanted it to, it was almost all for naught. I had limited resources over there in Botswana. I didn't have what I call my "limb factory," over there.
There was so much stress leading up to that point, and I think when I finally put the brace on initially, and I knew I had something I could work with that amount of time I was there, I was so relieved.
And then I had to bring the brace back because I had to make some adjustments to it, and it was very stressful shipping it back to Botswana, just putting it into a box and saying, "Oh, please get back to where it needs to go." It was putting something that meant life or death into a box, and there's always that chance it could get lost. But luckily it didn't.
Will you see Jabu again?
The Okavango Delta in Botswana is my favorite place I've ever been. I'd love to go visit Jabu every year just to check up on him.
I am able to help animals all over the world, but I never meet most of them, because the internet allows me to work with caregivers remotely. So meeting Jabu was really special. Everyone's always surprised that I can treat the world out of one location.
On your episode of Dodo Heroes, we also meet Chi Chi the dog, who needs four prostheses. How was this a new challenge?
There's probably only a handful [of animals] in the world that have orthotic legs on all four legs, so there's not much to go by. You can't just open up a chapter in a textbook and say, "How do you do this?" Especially with a condition like Chi Chi.
What is that moment like for you when animals like Jabu and Chi Chi realize that they have their mobility back?
It's just the best feeling in the world. I get to see not only the animal regain their mobility, but it's like a family member coming back to life for the caretakers, so there's a lot of crying and happiness, and it's completely a feeling you get addicted to.
That's why I keep doing this, because it's just that moment that you want to recreate for people and animals over and over again. I always say that I have the best job in the world and one that I don't even consider a job. For me, the weekends are the hard thing, and the days helping these animals are the fun part.
Dodo Heroes, Saturdays beginning June 9, 9/8c, Animal Planet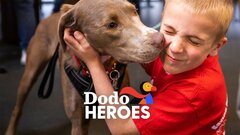 Powered by