'Six' Star Barry Sloane on What's in Store for Joe 'Bear' Graves in Season 2 (VIDEO)
History Channel's Six kicked off it second season last week with a pair of episodes that shook things up for the show's central band of Navy SEALs by sending off their fallen former team leader, Rip Taggart (Walton Goggins).
Having been gunned down by an sleeper agent working for captured terrorist Michael Nasry (Dominic Adams) in the season finale, Rip succumbed to his injuries while CIA operative Gina Cline (new series regular Olivia Munn) was, at the same time, torturing Nasry for info on his boss, The Prince (Nikolai Nikolaeff).
See Also
Olivia Munn joins the cast in all new episodes beginning May 28.
In addition, Caulder (Kyle Schmid) teetered on the edge following a blast injury, Buddha (Juan Pablo Ortiz) struggled with setbacks both at home and in the field, and newly-minted team member Trevor (Eric Laden) made waves with his, um, less-than-conventional manner.
That's a whole lotta debriefing we just gave you and that isn't even covering all of the twisty backroom deals and military maneuverings that come with Cline's plans for the gang. So we recruited Barry Sloane, whose Joe "Bear" Graves has taken over the late Rip's spot at the top, to explain what else is going on as these SEALs head into what is already shaping up to be true test of their valor.
Six, Wednesdays, 10/9c, History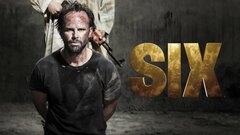 SIX
where to stream
Powered by