The Cast of History's 'Six' Gives 6 Reasons to Watch Season 2
The fact that History's SEAL Team drama draws from real-life missions isn't the only reason Six merits at-ten-shun! It's also a stirring look at what makes the elite force tick—and the life-or-death decisions that can tear them apart. We scored Season 2 intel from the cast.
The actress joins as Gina Cline, a CIA operative trying to turn Michael Nasry (Dominic Adams), the terrorist behind last season's attack on team leader Rip (Walton Goggins), into an asset. "Michael and Gina are both highly intelligent," Adams says. "You get sucked into their cat-and-mouse game."
2. Internal conflict ignites.
Direct orders test Bear (Barry Sloane) and his loyalty to this band of brothers. "You can't be everyone's best friend if you're gonna be a boss," says Sloane. Especially with defiant fellow SEAL Buddha (Juan-Pablo Raba). "He did a snap with Gina that went wrong," Raba says. "He knows she's trouble."
3. There's homeland insecurity.
Chase realizes the brutality of his top-secret career "doesn't fit with his lifestyle back home" and struggles with the personal cost, Edwin Hodge says. "But within the darkness, he gains some peace."
4. A wounded warrior is sidelined.
The action moves to Eastern Europe, but an injury sends Kyle Schmid's Caulder home, propelling what the actor calls "the most incredible" five-episode arc.
5. A vet shakes things up.
Eric Ladin begins a tour of duty as SEAL Trevor, who was on the bin Laden raid. "He's outspoken and a bit of a contrarian," Ladin says. "He pushes some buttons to see how strong these guys are."
6. Loose lips sink ships.
Jaylen Moore (Fish-bait) calls an upcoming black-ops mission "a real reflection" of the military's clandestine nature.
Six, Season Premiere, Monday, May 28, 10/9c, History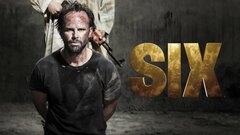 SIX
where to stream
Powered by