'The Great British Baking Show' Is a Sweet & Decadent Obsession
Certain recipes just work. My mom's Chicken Christopher, for one. Who knew a can of mushroom soup, bread crumbs and a ton of butter and cheese could be so dangerous? I mean, delicious.
That sort of culinary alchemy is also at work in The Great British Baking Show. When PBS first imported it to America via the BBC (where it's called The Great British Bake Off), this sugar-and-spice Top Chef won me over thanks to Sue Perkins and Mel Giedroyc, the comic hosts, and judges Paul Hollywood and Mary Berry. He's suave and silver-fox cool; she's regal and delightfully cheeky.
To say they are the only reason GBBS gets a rise out of me would be half-baked. There's also the jovial camaraderie among the chefs vying for the crown — a quality rarely seen on U.S. reality competitions. Instead of trash talking, these Brits stand the heat in the show's outdoor tented kitchen with style. And the intricate confections they turn out every week are sick.
Sadly, the show moved to the U.K.'s Channel 4 last year and lost Perkins, Giedroyc and Berry. No offense to their replacements, but they're like the human version of sugar substitutes: fine, just not as tasty. Thankfully, PBS is finally airing the third season, which never ran in the States.
Filmed in 2012, this batch of episodes features Perkins, Giedroyc, Hollywood and Berry doing what they do best as 12 hopefuls take on challenges like constructing a chocolate and custard delicacy based on French nuns. Fitting, really, for a show so many of us consider to be manna from heaven.
The Great British Baking Show, Friday, June 22, 9/8c, PBS (check local listings at pbs.org)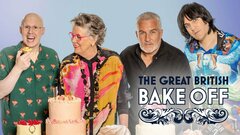 Powered by