Fuse Documentary 'It's Criminal' Exposes Journeys of Incarcerated Women (VIDEO)
Think you know what being in prison is like based on movies and bingeing Orange Is the New Black? There's much more to to the experience of living out a jail sentence, and a new documentary, It's Criminal, takes us inside the United States prison system.
The documentary, having its worldwide premiere Saturday on the Fuse network, goes inside the Sullivan County Department of Corrections in New Hampshire and examines the prison system among women.
Privilege, poverty and injustice are, unfortunately, a big part of the system and the doc exposes us to the life-changing journeys of incarcerated women. In fact, the film reveals that women are the fastest growing population behind bars in the U.S. due to non-violent crimes and drug offenses.
Directed by Signe Taylor, It's Criminal is part of the Fuse Docs series of documentaries that looks at young, idealistic and diverse people who celebrate their cultural heritage and identity, confronting issues and overcoming prejudice.
Here is a preview from It's Criminal featuring Dartmouth College students as they are prepped on what to expect coming into the Sullivan County Department of Corrections once a week.
It's Criminal, Saturday, June 9, 9/8c, Fuse Network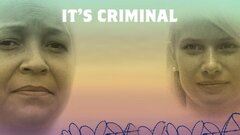 Powered by