'Unbreakable Kimmy Schmidt' Star Ellie Kemper on Season 4, 'The Office' Reboot
America's favorite Mole woman can't be contained! In Unbreakable Kimmy Schmidt's fourth and final season of irrepressible silliness, the titular cult escapee (Ellie Kemper) works her way into a Harvey Weinstein situation, faces her former captor, Reverend Richard Wayne Gary Wayne (Jon Hamm), again and finds a perfect outlet for her optimistic take on life.
And that's just the first six episodes. (The last seven will stream at a later date.) The Emmy-nominated actress gave us a preview.
Kimmy has a new job at Giztoob. Is that like the tech site Gizmodo?
Ellie Kemper: [Laughs] I don't know what Giztoob does. I just know that I work there, and I'm in human resources.
In the first episode back, she's almost fired!
There is a spin on the #MeToo movement—how could you not weave that into the fabric?—but it's reversed: She inadvertently oversteps some bounds.
And how are things back at the apartment with actor roommate Titus (Tituss Burgess)?
Talking to you now, it's sad to think their time together is finite, because they're a good yin and yang. They balance each other out and help each other see things about themselves they otherwise might not.
Snooty Jacqueline (Jane Krakowski) is crashing with them too. How does that happen?
I missed being in scenes with Jane and Carol Kane [landlady Lillian]—we didn't have them [available] as much last season. Now Jacqueline is managing Titus, so more group scenes have been bringing us together, which is so nice.
And with all this talk about a Kimmy movie and reviving The Office, you'll be fine after the series is over.
Exactly! And by the way, what you know about the Office reboot is what I know about the Office reboot. [Laughs] But I would go back in a heartbeat.
Unbreakable Kimmy Schmidt, Season 4 Premiere, Wednesday, May 30, Netflix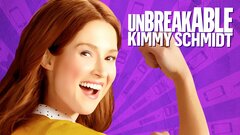 Powered by