Fudge It to Heck! The Final Season Trailer for 'Unbreakable Kimmy Schmidt' Is Here! (VIDEO)
We'd make an "it's a miracle!" joke, but really, who hasn't by now?
Besides, as great as it is to have Unbreakable Kimmy Schmidt coming back to our screens soon, we're all still trying to process the fact that it will be the final season. Even star Ellie Kemper is working through it.
"When you end a television show, it does feel emotional," she told TV Guide Magazine on the UKS set last week. "Even though you tell yourself, 'Oh, it's a job,' it is sad."
You're telling us, girl. Especially since this just-released official trailer for Season 4's first half is chock-full of the funny we have come to expect.
Picking up after last season's finale, our girl is now working at the questionably named Giztoob, dealing with the #MeToo movement and—now that she is done school and doing the 9-to-5 life—experiencing weekends with her roomie and white-privilege mentor Titus (Tituss Burgess). That is, when he's not roping her into his new plots to win back his former beau or directing a bizarrely funded middle-school production of Beauty and the Beast."They're both so unhinged and crazy in their own ways, but then together one of them will suddenly become reasonable," laughs Kemper.
In addition, Jon Hamm, Busy Philipps, Greg Kinnear, Aidy Bryant and Bobby Moynihan are on tap for guest spots, tragedy will strike the residents of the sideways tugboat they all live in, DJ. Fingablast (Derek Klena) finds a new calling, and Jacqueline (the heavenly Jane Krakowski) is set to launch a horrifically titled talent agency. Oh and there's a major curveball waiting for the crew at the end of this six-episode batch.
"It's pretty great," previewed Kemper. "We shot the [scene] right before we took a two week hiatus where, I guess, it was decided the show would wrap up, and it ends with a cliffhanger."
From mole women to mystery? Damn, now that is gonna be, uh, an interesting transition.
The Unbreakable Kimmy Schmidt, Weds., May 30th, Netflix
And for more on how "Giztoob" is pronounced, pick up next week's issue of TV Guide Magazine.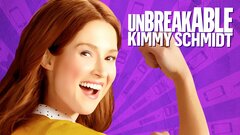 Powered by