'The 100' Star Bob Morley on Reunions & a 'Long Road' Ahead for the Blake Siblings
Six years in space can change a man and, from the looks of it, that is all for the better when it comes to Bellamy Blake (Bob Morley).
Now that the reformed bad boy of The 100 is back on terra firma — and about to flex his heroic side to save his friends — Bellamy will be seeing that his old aggressive ways may run in the family… and more violently than he realized.
But that's just fine for Morley, since it also means getting to play a storyline that will shake up the dynamic with his on-screen sister, while also allowing his character to (maybe) make up for some past sins of his own.
See Also
Are you a fearless leader like Bellamy or are you compassionate like Clarke? Find out!
Hey, welcome back to Earth! I hear you have a pretty big episode this week.
Bob Morley: Well, a lot comes to a head, you know? The thing that I like about Episode 4 is you start to see all the stories start to converge. It's great. You've gotten the backstories of the space crew, Clarke (Eliza Taylor) and Madi (Lola Flanery), and the bunker, which has been been great. Now the fans will be excited about all of the stories finally coming together.
What can you tell me about the reunions in this episode? I mean, it's nice that they all get to say 'Hey, oh my God, welcome back, blah, blah, blah' but things are still awful.
Yeah. You know there's that brief moment of relief of seeing each other but then, you know, there's that quick realization that they're in a terrible situation right now. In terms of what has happened over the last six years, there's like a little bit of a powwow, but obviously there's a lot of negotiations that Bellamy has to take care of in order to ensure Clarke's safety. So it kind of starts off with Bellamy, the new Bellamy — the 'head and heart' Bellamy — dealing with the Eligius crew. He has to negotiate a deal with them first before there's any steps toward his thoughts of his sister [Octavia (Marie Avgeropoulos)].
Understandable. There's a lot to think about there, especially once he sees what she's been up to underground. How do negotiations with Charmaine (Ivana Milicevic) and Eligius go?
Well, you know, he's got the power of the mighty mug, the coffee mug. Just a coffee mug! [Laughs]
Right! Do you think the new Bellamy would ever go through killing the prisoners in cryosleep up in the ship?
That's his bargaining chip and, I think from being so pragmatic and military-esque all of those years, you know, it's something that he takes quite seriously. And he touched on that on Episode 3 where he was like, 'You know, we're already talking about murdering hundreds of people.' It's not something that's beyond him, but it's definitely something that he doesn't want to do again. I mean, being at the helm of a lot of mass murders…
See Also
Stay alive, Octavia! We are gonna need you next year.
He has done this before.
I know! And then there's the Mt. Weather, there's the ring, there's the killing in the army. There's a few that he's been a part of which, I think he's pretty happy to avoid it now.
Good. Where does Bellamy stand with Clarke now?
Well, that's the interesting thing. The Madi-Clarke, mother-daughter relationship is something that really gonna dictate who Clarke is this season. And I think there's a part of Bellamy that understands what it is to have to be a parent. Obviously, from raising Octavia or [at least] being there for Octavia. So, now he has the the space crew — which is his new family — and his sister to keep in mind, as well. Even though Bellamy and Clarke are probably working toward the same goals, peace or you know, being able to live peacefully, they're doing it from two different angles now. Clarke has Madi, whereas Bellamy's protecting his space crew family… we'll have to wait and see how they work it out.
And what's coming up for you and Octavia? Because this is a relationship that's taken so long to get on its feet and Bellamy is about to see probably the darkest side of his kid sister.
Oh my God, that is going to be one of the major storylines of the season. Obviously, Octavia's gone through a hell of a lot. Bellamy is trying to rekindle with his sister and they're trying to understand each other. It's nice, like the first four seasons kinda wrapped into one where Octavia saw Bellamy go through a change that she just couldn't understand, and now it's vice-versa. The roles are a bit reversed in a sense with her being the Red Queen and all. So, yeah, it's gonna be a long road, you know. It was really interesting for both me and Marie to play it out and see how it worked because Bellamy, in his heart, is much more of a pacifist now rather than an aggressive, protective older brother. The shoe's on the other foot.
The 100, Tuesdays, 9/8c, The CW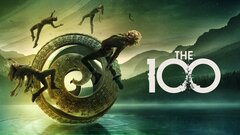 The 100
where to stream
Powered by