American Idol' Selects Its Top 3 Going Into the Finale — Who Will Win? (POLL)
During American Idol's Mother's Day episode on Sunday, the Top 3 were selected and voted into the final round of competition.
The evening boasted former Idol contestant and winner Carrie Underwood as mentor to the Top 5, which included Maddie Poppe, Cade Foehner, Gabby Barrett, Caleb Lee Hutchinson, and Michael J. Woodard.
See Also
The contestants performed songs from their birth year and by Prince.
As they sang a collection of songs, the audience selected their favorites bringing Poppe, Barrett, and Hutchinson to the finale with their votes during the live broadcast. Fans of the show have had their share of opinions each week when it comes to those eliminated and this week was no different.
It seemed to be a consensus among fans on social media that Michael J. Woodard was the Idol unfairly eliminated in this latest round. The singer lent his vocals to Underwood's "Flat On The Floor," and "Still I Rise" by Yolanda Adams.
In a poll taken by GoldDerby, Barrett is the leading fan favorite to win this season ahead of fellow finalists Poppe and Hutchinson. The poll has Poppe finishing second and Hutchinson third, but all of this remains to be seen in the finale.
See Also
Plus, 'Party of Five,' 'Facts of Life,' and more keep on coming.
Scroll down for a look at the Top 5's most popular performances from the episode and let us know which contestant you think will win in our poll below!
Gabby Barrett, "I Have Nothing" by Whitney Houston
Maddie Poppe, "I Told You So" by Carrie Underwood
Caleb Lee Hutchinson, "So Small" by Carrie Underwood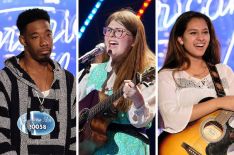 See Also
It's almost time for America to step in an vote.
Michael J. Woodard, "Still I Rise" by Yolanda Adams
Cade Foehner, "Undo It" by Carrie Underwood
American Idol, Sundays & Mondays, 8/7c, ABC