'Lethal Weapon' Star Clayne Crawford Reportedly Not Returning as Martin Riggs
Lethal Weapon co-lead Clayne Crawford is reportedly out at the Fox hit.
Fox and Warner Bros. have allegedly decided not bring the actor back in his role as Detective Martin Riggs, and producers are said to be scrambling to replace the actor if the show gets renewed for a third season, according to multiple media reports.
This decision comes after reports claim Crawford displayed inappropriate behavior on set, making coworkers and staff feel uncomfortable. He supposedly has a long history of behavioral issues and has been "disciplined several times over complaints of emotional abuse and creating a hostile environment," according to a report by Deadline.
Crawford apologized for his behavior on social media writing, "I absolutely love, respect and care for my crew and cast, and would never intentionally jeopardize so many jobs."
"I an incredibly sorry if my passion for doing good work has ever made anyone feel less than comfortable on our set, or feel less than celebrated for their efforts. Furthermore, I apologize to all the crew and cast for any negative attention Lethal Weapon is receiving because of these incidents," he continued.
Sources at The Hollywood Reporter say multiple actors have been offered the role replacing Crawford, but have ultimately passed. We'll likely learn the final fate of the show during Fox's upfront presentation on Monday, May 14.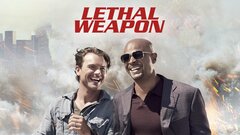 Powered by