Roush Review: A Tiresome New 'Picnic' Leaves You Hanging
An eerie Australian Gothic set in the Victorian era, yet unnervingly modern in its depiction of repressed female sexuality, Picnic at Hanging Rock is a benchmark of Down Under and 1970s cinema.
It's unlikely anyone could improve on Peter Weir's haunting 1975 movie, based on Joan Lindsay's unsolved-mystery novel about the search for three schoolgirls and a teacher who vanish in the wilderness during a Valentine's Day picnic in 1900. This heavy-handed remake, while overlong and overwrought at six hours, does capture some of the essence of exotic nature colliding with erotic desire.
See Also
Plus, 'Amnesia' and 'Keeping Faith' on Acorn.
Lily Sullivan is especially impressive as Miranda Reid, a tomboyish rebel who leads the wayward women's expedition into the unknown (and largely unexplained).
But too many obvious camera tricks and cheesy sound effects cheapen the storytelling, and the acting is at times comically broad, including Yael Stone's (Orange Is the New Black) caricature of neurotic piety as one of the more uptight schoolmarms at the Appleyard College finishing school, a grand mansion which sits in the middle of the Outback as a symbol of colonial and cultural anachronism.
To flesh out the episodes, we're treated to glimpses of a lurid backstory, feeling like second-rate Dickens, for cruel finishing-school headmistress Hester Appleyard (a smirky Natalie Dormer). "Secrets are like worms: greedy, greedy feeders," she warns her restless students. (Later, she imagines maggots squirming over her shoes in a typically unsubtle touch.)
While the secret longings of these missing young women make for a tantalizing puzzle, navigating this tiresome new Rock is no picnic.
Picnic at Hanging Rock, Series Premiere, Friday, May 25, Amazon Prime Video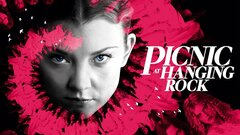 Powered by