Kimberly Williams-Paisley Says Her Latest 'Darrow & Darrow' Flick Is 'Even More Fun' Than the First
On May 6, Kimberly Williams-Paisley stars in Darrow & Darrow: In the Key of Murder, the second installment of her mystery franchise for Hallmark Movies & Mysteries. In the new film, Claire is called upon to help Miles' half-sister Phoebe, a young singer who has been accused of murder. It's Claire's first-ever murder case, but as always, she's ready and willing to fight for the innocent.
TVInsider.com caught up with the actress to get the scoop on her series costars Wendie Malick (Just Shoot Me! and Hot in Cleveland) and Tom Cavanagh (The Flash, Ed), the film's musical twist, and an upcoming charity event that she and husband Brad Paisley are working on.
How does the Darrow & Darrow franchise feel now that you've got more than one film under your belt?
Kimberly Williams-Paisley: I loved doing the second one because we had already established the character, we know the dynamics. We know the underlying tension especially with Claire and her mom [Wendie Malick]. We know there's this flirtation between Claire and Miles [Tom Cavanaugh]. Now, in the second one, we get to build on that. I think the second one is even more fun even though it's a more serious case. It's a murder trial and Claire's first. But I think as actors and also as characters, we're having a lot fun with it.
Part of the fun of this second film is its musical storyline and its really great soundtrack.
I know! MacKenzie Porter (Travelers), who plays Miles's half-sister, is insanely talented. That was just such an added bonus to the show, really increased the production value to have her music and her voice on the episode. She's a terrific singer and also a great actress.
What are the on-set antics like between you, Wendie and Tom?
We have so much fun. We also really comfortable with each other and with the material. It starts with a terrific script that already has some humor in it. I feel like we have a lot of freedom to play with it when we get there. It's the best. It's the best of both worlds to have people you love, doing material you love.
Claire lives by the moral code of fighting for the innocent. Why is this something that you admire?
I think it's very admirable that she doesn't care so much about money, she cares about fighting for the little guy, fighting for people that don't have a voice or can't afford the expense of a lawyer. She really fights hard to protect people's rights and to fight for the innocent. She has a knack for knowing if someone's innocent or guilty. She believes she does anyway. So far, she hasn't been wrong, that we've seen. She's willing to go to bat and put her career on the line for people when she really believes someone is innocent.
Is that something that you and Claire share or is it something you'd like to glean from your character?
No, I just care about the money. [Laughs upforiously] Claire's mom cares about the money and that's where they butt heads. Claire is's based on Clarence Darrow, a famous public defender who's known for having these very eloquent speeches in court and really inspiring people with his words. I think Claire aspires to do the same thing.
As an actor, is it intimidating to deliver courtroom speeches?
Yes, but I love it. I just need to start working on it a week in advance or more if possible because some of those speeches on go for pages. Last time and this time, I had really long speeches to learn. But it's so fun.
What was a fun moment that happened while shooting In the Key of Murder?
This is just a small little thing but to me, it's just so perfect because it's like real life. Tom had this idea when we were leaving the dressing room of his sister, to just bump into me accidentally and send me flying across the hall. He did and all he did was say, "I'm sorry about that," and kept walking. But it's like such this little perfect, real-life moment that was all Tom.
Wendy always has a sparkle in her eye and I was doing my close-up in one of our final scenes—it was actually my very last shot in the movie—and this giant painting fell down behind my head while I was doing my lines. And just watching her expression when that was happening was hilarious. It was really loud and really scary and of course, she snorted because she always snorts. We had to do it again and it was just so funny to watch her face as I was trying to get through it because the whole time, she's just praying that it didn't fall down again.
After In the Key of Murder, when will we see the next installment of Darrow & Darrow?
I hope really soon. I hope a lot of people watch the second one and we're developing another now. I feel confident that people will embrace it and love it as much as we do.
Kimberly, what else are you working on?
I am working on an Alzheimer's event June 3rd in Nashville that's going to be really fun. It's a fundraiser for the fight against Alzheimer's and it's an '80s dance party. We're selling tickets for that now. Brad and a lot of other people will be playing '80s cover songs. We've got Chris Young, and Chip Esten from Nashville, Lindsay Ell, Chase Bryant, and lots of other surprise guests, too.
More info about Kimberly's Dance Party to End ALZ
Darrow & Darrow: In the Key of Murder, Sunday, May 6, 7/6c, Hallmark Movies & Mysteries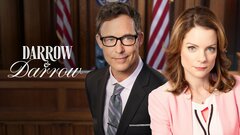 Powered by