'Community' Reunion: Danny Pudi Tells Us How It Came Together for 'Dr. Ken'
They got six seasons and…guest spots on Dr. Ken! It's a Community reunion this week as Danny Pudi and Joel McHale visit former costar Ken Jeong's new sitcom. McHale faces off with the doc as Ken's nemesis, while Pudi plays Julie's (Kate Simses) jerky on-again, off-again boyfriend. Pudi fills us in on the big homecoming.
Ken's been talking about getting you guys on the show for months. When did he bring it up?
He's been talking about it since, I think, Season 3 of Community. [Laughs] We're always discussing working together in a different way. But it was probably in the fall. I think that's a testament to Ken's loyalty that instead of worrying about his show, he's still worried about our old show.
Dr. Ken is based on Ken's former life as a doctor. What past job of yours could make for a good series?
I used to say it would be about me being a door-to-door salesman of knives because at the end of high school, I worked for Cutco. But then I realized that's probably not a safe show.
PHOTOS: Joel McHale's Candid Behind-the-Scenes Community Shots
Were you a good salesman?
No. When people said no, I said, "I understand," and I left.
In your years of knowing Ken, has he ever performed a medical procedure on you?
There was one time we were bored on the Community set, and so everyone, spearheaded by Joel, dared me to drink this bowl of crazy liquids—like amino acids, soy sauce, hot sauces—for $50. I was like, "OK, I'll do it, [but] I need to consult with my doctor." So I asked Ken, and he was like, "You're going to experience a lot of indigestion and heartburn, but don't worry about it!" As soon as I drank the bowl, he gave me Tums, and it did help. But it was not a great idea in the middle of a shooting day. Joel still owes me $50, by the way.
[jwplatform uZa3Aorb]
>> VIDEO: Community Director Takes Us Behind the Scenes
Dr. Ken, Friday, Feb. 5, 8:30/7:30c, ABC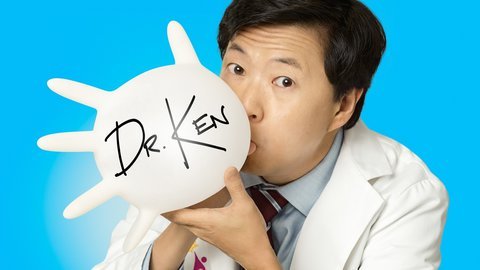 Dr. Ken
where to stream
Powered by