'Westworld' Season 2: 'Breaking Bad' Favorite Makes Guest Appearance
Westworld is known for its twisty plot and stellar cast. We had the pleasure of watching Sir Anthony Hopkins in the first season, and even though we've lost his character in Season 2, the HBO series has certainly made up for it by adding a number of amazing actors to the cast.
So far (we're only two episodes in), fans have been delighted to see Vikings actor Gustaf Skarsgard cast as Delos' Head of Operations Karl Strand, and Get Out's Betty Gabriel as the armed-and-dangerous security agent Maling.
See Also
Sunday's episode — which took us deep into the origins of the Westworld park — showed us humanity at its most selfish and self-destructive.
But nothing prepared fans for the brief but oh-so-satisfying cameo from Breaking Bad and Better Call Saul star Giancarlo Esposito, who plays Gustavo "Gus" Fring — a.k.a. one of TV's nastiest villains.
In the Westworld "Reunion" episode, Esposito continued on his evil streak by portraying El Lazo, a gun-slinging host with a merciless army whom William/Man in Black (Ed Harris) wants to align with on his journey to find "The Door."
But it seems even from beyond the grave, Dr. Robert Ford (Hopkins) is controlling the park, thwarting William at every chance. In a brutal moment, Lazo and his men all commit suicide after he gives an ominous monologue.
Esposito revealed to The Hollywood Reporter how the part came together.
"I got a call [from the Westworld team] asking me if I liked the show. I said that I loved the concept, I loved the original movie, and then I got a call of support from my people over at Better Call Saul. They told me: 'They're such great writers. They have envisioned something very different, and they can't get you out of their heads for it. We wanted to give you our support if you like them after you talk with them.'
"So I got on the phone with Lisa Joy and her lovely husband [Jonathan Nolan], and I liked the way it sounded. And then I did it!"
See Also
The first episode answered some questions but mostly opened a whole other can of worms.
It was the description of the El Lazo character that really piqued the actor's interest. "[The producers] talked about a character who is a bit of a mystery. Someone who is strong, someone who is a leader. He does things very differently. They told me the whole idea about the host uprising and how all of that impacts the Man in Black."
And, of course, Esposito couldn't pass up the opportunity to spar on-screen with Ed Harris. "I've known [Ed] for a long time. I really love his work. It's very subtle and very complicated," Esposito added.
Westworld, Sundays, 9/8c, HBO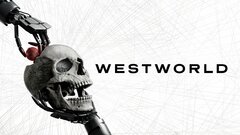 Powered by