'Animal Kingdom' Season 3 Trailer Introduces Denis Leary as Deran's Father (VIDEO)
Things are getting wild on TNT's Animal Kingdom as Denis Leary (Rescue Me) jumps into the Cody family fray for Season 3.
In an all-new trailer, Janine "Smurf" Cody (Ellen Barkin) may be in prison, but she's leaving her grandson Joshua "J" Cody (Finn Cole) in charge while she's on the inside. "J, you are in charge of the business," Smurf states.
"What are you asking me to do?" replies her grandson. She responds simply and to the point: "What I tell you to do."
So what happens when the Cody matriarch puts the youngest in charge? Craziness abounds, of course! Handling jobs left and right, the family is shocked when someone from their past, unbeknownst to some, reemerges in their life: Denis Leary!
"Anything I can do to help you," Leary's character offers the Codys.
"Do I know you?" Jake Weary's Deran asks.
"Meet your father," Andrew "Pope" Cody (Shawn Hatosy) clarifies.
If this isn't enough to convince viewers that this season will be on another level, then check out the trailer below.
TNT also released some telling key art in anticipation of Season 3, seen below:
Animal Kingdom, Season 3 premiere, Tuesday, May 29, 9/8c, TNT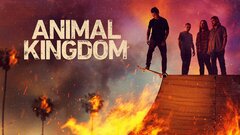 Powered by