Denis Leary Cast as [Spoiler] in 'Animal Kingdom' Season 3
Animal Kingdom's Cody family is one the most dysfunctional groups of people on TV and now TNT has cast another shady family member to really put a wrench in everyone's plans.
The network announced Tuesday that Denis Leary (Rescue Me) is joining the crime drama series for Season 3. He will play Billy, the estranged father of Deran (Jake Weary)—the youngest son of Smurf (Ellen Barkin).
According to the press release, Billy is a drifter and Smurf sent him packing years prior.
"Denis Leary's extensive and successful career playing complicated, flawed characters makes him the perfect addition to this badass Animal Kingdom family," said Sarah Aubrey, executive vice president of original programming for TNT, in a press release.
But as Leary joins another character might be exiting in Season 3. Baz, played by Scott Speedmen, was shot in the Season 2 finale.
Speedman has since landed a top-secret role on Grey's Anatomy, indicating to fans he might have moved on from Kingdom. Hey, Kingdom's loss is Grey's gain!
Animal Kingdom, Season 3, Summer 2018, TNT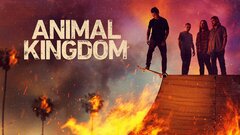 Powered by