The 'Fast & Furious' Franchise Is Getting Animated for New Netflix Series
Start your engines because Fast & Furious is coming to Netflix — and in an unexpected new form.
The hit franchise is expanding its borders by taking on animation! Fast & Furious the animated series is part of Netflix's growing relationship with DreamWorks Animation Television. Netflix's deal with the animation giant allows them to stream DreamWorks series and movies first, including exclusive originals like Fast & Furious.
DreamWorks and Netflix's relationship has spanned five years and has spawned 14 original series including All Hail King Julien, DreamWorks Spirit Riding Free and DreamWorks Trollhunters. There are four series set to debut on the streaming service from DreamWorks this year alone.
Of the growing relationship, Vice President of Kids and Family, Melissa Cobb says, "We are thrilled to take our fantastic partnership with DreamWorks Animation to the next level with new opportunities from the vast library of Universal Pictures.
"The Fast & Furious franchise is a global phenomenon beloved by audiences of all ages, and we can't wait to get started on the new animated series that will capture the action, heart, humor and global appeal of the feature films," she continues.
Meanwhile, President of DreamWorks Animation Television, Margie Cohn says, "We are excited to extend and expand our successful relationship with Netflix by not only delivering more high-quality DreamWorks programming, but connecting fans of Universal films with fascinating new stories. Our new home at Universal marks an exciting new chapter for storytelling at our studio, and Fast & Furious is only the beginning."
The film franchise, which began in 2001 with The Fast and the Furious, later became a global phenomenon. It stars Vin Diesel, Dwayne "The Rock" Johnson, the late Paul Walker, and more. Netflix's version will be produced by Diesel, as well as fellow live-action version producers Neal Moritz and Chris Morgan.
Fast & Furious will follow Tony Toretto, the teenage cousin of Diesel's Dom Toretto. (There's been no word on whether Diesel will voice the character in the animated version yet.) Tony and his friends are recruited to "infiltrate an elite racing league," by a "government agency." The racing league serves as a front to an evil organization looking to take over the world.
There is no release date at this time, but this news is certainly exciting for fans of the original films, especially if they want to introduce the franchise to a younger audience.
Fast & Furious, Coming Soon, Netflix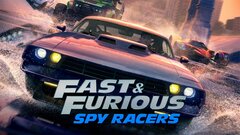 Powered by