Flula Borg on Playing a Baby Villain in Netflix's 'Boss Baby' Spinoff (VIDEO)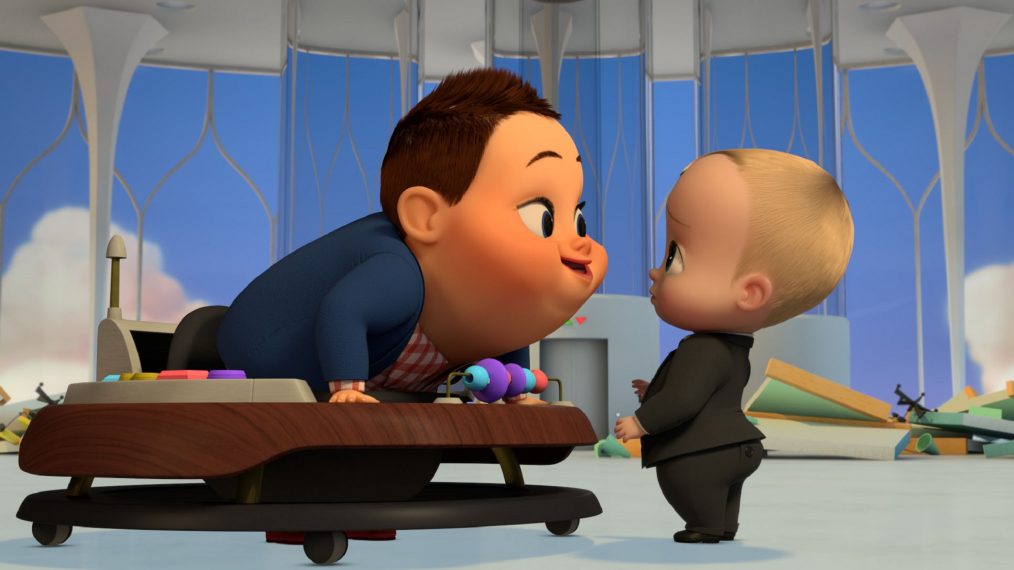 The Boss Baby is back, and this time, he means business.
On April 6, Dreamworks' hit cartoon gets a Netflix series makeover in The Boss Baby: Back in Business. Tim and Boss Baby will get in all sorts of shenanigans, including a business-like exchange over green beans which can be seen in an exclusive clip below.
But vegetables aren't the only thing these brothers will face, as a new enemy is introduced—YouTube star and actor Flula Borg (Pitch Perfect 2, Counterpart) will lend his voice to Mega Fat CEO Baby, one of Boss Baby's main adversaries.
TV Insider spoke with Borg about what it's like to play an animated baby, and the difference between his usual comedic roles and his other recent dramatic fare.
You're absolutely hysterical. Is your approach to a voice role the same a live action one?
Flula Borg: In a live action role, you just look in the mirror and [and know], 'You are Flula Borg, you have two eyes, maybe one nose and maybe two to three ears.' And so I know what this person looks like. But with something like animation, there's another person who's creating you and drawing you and realizing. I'm not just a normal homo sapien adult—I'm a partially nude, large but also short, lazy baby who wears odd diapers. And so to go with this role, you do need to change your voice a little.
What interested you about the role of Mega Fat CEO Baby? Were you a fan of the original film before landing the role?
Number one, the name Mega Fat CEO Baby is enough to make me take a job–it doesn't matter what the specific job is–it's a legendary name, so I said yes. Also, I'm usually a nice man who tips well at restaurants and opens doors for old and young ladies, so to play Mega Fat CEO Baby—who is a very rude and lazy baby—is a dream. I love the opportunity to not be a nice person in a fake way which is very fun for me. And I did see the film and love it very much. To be part of this world and expand it to new places is very exciting.
What is your time commitment to a voice role?
We have been working on this for many months. I have to be at the ready, so I'm sitting by my phone all the time. When they call me, I need to run to the studio and I become a rude, overweight baby. But this can sometimes happen once a week, several times a week, or maybe like once a month. It's like the fire department except we're not putting out emergency fires, we're recording fun voices for a very sassy cartoon.
You recently guest-starred in the Starz series Counterpart. What's it like acting in a drama as opposed to a comedy?
I love to do both. It's like, when you're going into the kitchen, you don't always want to eat lasagna. Sometimes maybe you want some oatmeal or some vanilla pudding or some icy ice cream. This is why I love to do all of these things, otherwise my brain would fall asleep. I would be like, 'What's the point?' So it's fun, I love variety.
We've loved you're hilarious appearances in shows like Curb Your Enthusiasm, The Mick and Silicon Valley. Are there any other shows you'd like to guest on? Is there anyone you're dying to work with?
Yeah, speaking of that, I very much want to be in the Die Hard franchise. I would like to be a reboot Hans Gruber, the bad guy in the very first Die Hard film. My dream is to become the lead bad guy in the Die Hard franchise.
You got your start on YouTube. How has that helped and hurt your career as an actor?
It can only help you—unless you upload weird videos, that does not help your career. But as long as you are filming videos of things you enjoy or showing people what you are like, then that is good. So for me it has been very great, I can upload [videos of] my strange personality and people can decide, should we put him in a television show or should we throw a pizza at his face? You can choose.
What do you think of the state of YouTube stars in this current Hollywood climate—do you think their role has changed? Is it harder to be a viral star now?
Yeah, I think [it is more difficult] because there are so many people doing it now. It's like before when nobody was enjoying cottage cheese and now everybody loves cottage cheese. So it's like, who cares? I like cottage cheese, that's not unique. That's what YouTube is like now, it's like cottage cheese, everyone's eating it.
Now that you're a part of Netflix family, what's one show you can't stop watching from the streaming service?
That's a long list. They're doing a lot of very cool German shows like Dark. I love this stuff because it's like delicious real chocolate, not fake. It's made with real Germans and shot in Germany, it feels good. If I'm watching Babylon Berlin, I know it was shot in Germany with German people. It's just so amazing, highly recommended.
The Boss Baby: Back in Business, Friday, April 6, Netflix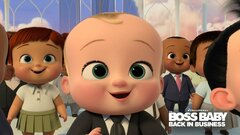 Powered by