See the 'Jane the Virgin' Cast Find out About That Incredible Finale Twist (VIDEO)
[Spoiler Warning: Do not read if you haven't seen the Season 4 finale episode of Jane the Virgin.]
In true telenovela tradition, Jane the Virgin's Season 4 finale left off with a major twist no one saw coming — not even the cast.
During the final moments of the April 20 episode, it was revealed that Brett Dier, who played Jane's beloved cop husband Michael Cordero, is back! And Gina Rodriguez and the rest of the show's stars had no idea it was coming until they were at the table read of the script.
See Also
Pretty much everything is coming back. So where does that leave pilots?
In the video below, you can see Gina Rodriguez so overwhelmed with excitement when Dier walks into the room, she jumps up into his arms.
Here you go! The video of the cast finding out that @Brettdier is back… pic.twitter.com/uhUeNp5cIQ

— Jennie Urman (@JennieUrman) April 21, 2018
Dier's character supposedly died in Season 3 after suffering from an aortic dissection from a prior gunshot wound, just as he completed his LSAT.
This season, the CW series fast-forwarded to three years after the tragedy. Now, Jane (Gina Rodriguez) has fallen in love with her accidental insemination baby daddy Rafael (Justin Baldoni). They just rented an apartment together and Raf was going to propose after receiving her family's blessing.
Enter a new kink in the plan.
SURPRISEEEE… #JaneTheVirginFinale @Brettdier 😉 pic.twitter.com/Nkc4c7yYa0

— JaneTheVirginWriters (@JaneWriters) April 21, 2018
But fans should of seen this coming. The "back from the dead" twist is one of the oldest telenovela tropes and there was plenty of foreshadowing in conversations between River Fields (Brooke Shields) and Rogelio de la Vega (Jaime Camil) about their new American soap, The Passions of Steve.
Jane creator Jennie Urman spoke with Variety about the choice to bring Michael back.
"He was definitely dead," she said. "Because it's a telenovela, there's always that trope. That said, we had to mourn him as a show, as a cast, as a room and as a fanbase. He's been gone for a year and a half. It's not like I brought him back three episodes later. That had to feel like a loss — and it was a loss at that time."
See Also
Gina Rodriguez hints that next season is the final one.
"It really leads to some really interesting, complicated dynamics [and] let us come full circle in a way in our storytelling," she continued. "I knew it would be the ultimate surprise, and we love a big shocking season-ending twist — but I also knew that what it would give us was this crazy amount of emotional navigation when we come back."
Seeing Michael also left fans wondering about other telenovela tropes: Could this be a twin brother? Is this someone wearing a mask?
"It's not Michael's identical twin, I can tell you that," Urman told Deadline.
In that case, if Dier comes back as a series regular he'll have to split his time between Jane and his new CBS pilot, History of Them.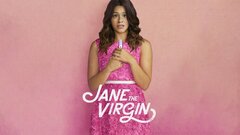 Powered by