Jenna Fischer's 'Splitting Up Together' Blog: 'Nevertheless … She Went Clubbing'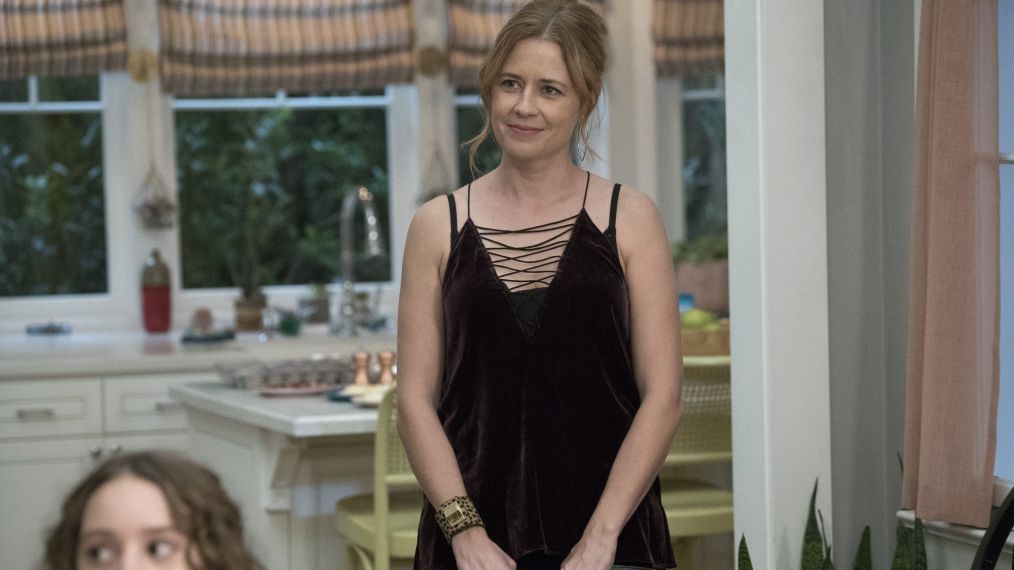 [This is the weekly post-mortem column for ABC's new comedy, Splitting Up Together, courtesy of star Jenna Fischer, who plays Lena. Watch a new episode every Tuesday and then come to TV Insider to read Jenna's behind-the-scenes insights in her own words! Spoiler Alert: Read ahead only after watching this week's episode, "Nevertheless … She Went Clubbing."]
Lena might be okay with Martin (Oliver Hudson) dating but as I watched this episode at home I was seething with jealousy — and regret.
I saw all of the ways Martin has been stifled by Lena's controlling nature. He's so charming and relaxed with Lisa Apple. She's lovely and sweet and kind. How cute are they at their brunch? Who wouldn't want to date Lisa Apple!? If we are being honest, Lisa might be better for Martin than Lena. (Gasp!) I have to tell you that I love the upcoming storylines with Lisa Apple (played by Monica Barbaro). They are amazing. I feel genuinely conflicted about Lena and Martin reuniting because I love seeing this side of Martin.
In case you were worried that Oliver would be the only one showing off sweet dance moves on the show, I got my moment to shine in this episode. Ten years of childhood dance troupe and dance training finally paid off. Until now my biggest dance achievement was the silver medal I took home for a group ballet dance competition during my senior year in high school. If they give medals for "sad solo club dancing" I think I might be in the running!
Oh, can we please talk about the scene on the bathroom floor with the crazy drunk gal played so perfectly by Lizzie Broadway? I had a very hard time not breaking during this scene. She was such a hot mess. And, even though they raised the walls of the bathroom stalls, it was still crazy difficult to shimmy under them.
In general, how did you guys feel about Lena leaving her kids at home to teach them a lesson about self-sufficiency and appreciation?
I really struggled with this aspect of the story. Not because I didn't think the kids were capable of being on their own but because, in real life, I'm a bit of a helicopter Mom. The idea of leaving the kids to fend for themselves went completely against my own Mom instincts. (Granted, my kids are little.)
Once kids are 14 and almost 16, I think they can be trusted to be at home alone for a few hours at a time. They should know how to fix a meal for themselves. And babysit their younger siblings. In some ways, watching the kids on the show freak out over being alone was a good lesson for me in the pitfalls of over-parenting.
I especially loved the scene at the end of this episode when Mae (Olivia Keville) tells her Mom that she likes when she's home because it makes her feel safe. I felt this way as a teenager too. I liked when my family was all home together. Even if I didn't want to be in the same room or talk to them.
Next week, Mae confronts Lena and Martin about getting along too well and tells them she needs them to start acting "more divorced." With guest star, and my friend in real life, Fred Armisen, who pops up to give Lena and Martin some couple's counseling.
Splitting Up Together, Tuesdays, 9:30/8:30c, ABC