My TV Obsessions: 'Good Girls' Star Retta Reveals Who Her Dream Costar Is
Good Girls' actress Retta admits her TV guilty pleasure!
THE SHOW THAT ALWAYS MAKES ME LAUGH:
Insecure.
THE FUNNIEST PERSON ON TV:
Andy Daly (Review, Silicon Valley). I love him and his sense of humor. Even just the sound of his voice makes me smile.
WHAT I EAT WHILE WATCHING:
Caramel Bugles are everything.
WHAT I LOVE TO WATCH:
Timeless (below). It's a really great history lesson that's fun to watch.
MY DREAM COSTAR:
Walton Goggins. He is special and does spectacular work. I think great actors bring out great performances in others, and I'd love to see what I could do sharing the screen with him.
MY GUILTY-PLEASURE SHOW:
Any renovation show on HGTV. I'm into transformation of a space.
THE SHOW I MISS THE MOST:
The Good Wife was so well done. I loved the music and the way they wrote for the recurring characters and guest stars. They were always fully fleshed-out.
THE SHOW I'D LIKE TO GUEST STAR ON:
The Good Fight. Like The Good Wife it has the best guest characters, and I'd love to tackle a complicated role on there.
THE FIRST THING I WATCH WHEN I WAKE UP:
Good Morning America if I'm up before 9am; otherwise, Live With Kelly and Ryan.
THE LAST THING I WATCH BEFORE I GO TO BED:
Late Night With Seth Meyers.
Good Girls, Season Finale, Monday, April 30, 10/9c, NBC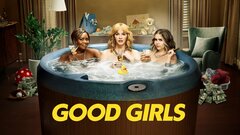 Powered by