'Brooklyn Nine-Nine' Sneak Peek: Gina & Terry School Holt in Social Media (VIDEO)
Another Brooklyn Nine-Nine episode is heading for a TV near you when "Gray Star Mutual" airs this Sunday on Fox.
This week, Pimento (Jason Mantzoukas) returns when tragedy strikes Charles' (Joe Lo Truglio) food truck, and Rosa Stephanie Beatriz helps boost Amy's (Melissa Fumero) morale about selecting her wedding dress. Meanwhile, Gina (Chelsea Peretti) and Terry (Terry Crews) do their best to instruct Holt (Andre Braugher) about the intricacies of social media.
In the exclusive clip below, Gina and Terry bust into Holt's office carrying some cold hard facts — that the Captain needs to learn more about tweeting and other forms of social media.
As Holt runs for commissioner, his competition, Olivia Crawford (Allison Tolman) is taking a running head start by responding to a community crisis through social media. When Gina and Terry share that the tragic event was a water main break that injured many,  Holt's concern is overshadowed by their desire to teach him the art of community outreach through technology.
"Tell him the real tragedy, Terry," Gina says.
"Olivia Crawford," Terry begins. "AKA your main comish competish," Gina adds. "Tweeted a statement addressing the water main break and she's been retweeted by the mayor," Terry concludes.
Will Holt be convinced, and if so, will it be an easy road to social media mastery? You'll just have to see when Brooklyn Nine-Nine airs this Sunday, April 22.
Brooklyn Nine-Nine, Sundays, 8:30/7:30c, Fox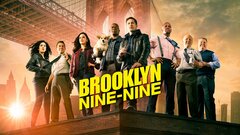 Powered by