Will There Be a 'Scandal' Spinoff? Shonda Rhimes Sounds Off
Thursday night, we say goodbye to Olivia Pope and Associates in the Scandal series finale.
And with so many spinoffs coming out in the near future, we couldn't help but wonder if the TGIT series' storyline might continue in a new way. Now, creator Shonda Rhimes is weighing in on the topic.
Unfortunately it's only bad news, as Rhimes told reporters ahead of the finale that "Scandal is done."
"I felt we were coming to our end is because we've told the stories I wanted to tell. We've told the canon of Olivia Pope in the way that I wanted to tell it," she added. "So I don't feel like we have stories that we didn't get to tell that I wanted to tell."
Earlier this year, Scandal crossed over with fellow Shondaland series How to Away With Murder, so could a few characters spill over onto that show? Rhimes explained that's not up to her.
"Whether or not it's mentioned is up to [creator] Pete [Nowalk]," she said. "That's his show and his storytelling. So I don't know if he's ever going to mention it. It's not a plan that either one of us have. Neither one of us have that in our heads as part of a plan. So thus far, no."
So we guess it's really official: After eight seasons, we'll be waving farewell to Pope and the rest of the Gladiators.
Scandal, Series Finale, Thursday, April 19, 10/9c, ABC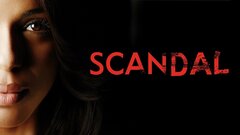 Scandal
where to stream
Powered by