'Genius: Picasso' Star Antonio Banderas Talks Pressures of the Iconic Role
When he took on the title role in Season 2 of National Geographic's anthology series Genius: Picasso, Antonio Banderas knew it was a big challenge.
First, because the most famous artist of the 20th century had a complicated, controversial and scandalous life. And second, because Picasso was Banderas's homie. "He's from Málaga, like me," says the Spanish-born actor, "so what I have done with our local hero will be looked at here with a magnifying glass."
Banderas plays Picasso as a mature master and celebrity, sharing the role with Alex Rich (GLOW) as the cocky, ambitious young Pablo. "Antonio is truly brilliant," says executive producer Ken Biller of the star's first part in a regular series. "He was kind of haunted by Picasso his whole life. It's a role he was born to play."
In the May 1 episode, as World War II rages around him and threatens his Jewish friends, Picasso's personal struggle is to convince young artist Françoise Gilot (Clémence Poésy) to become his new lover and model. The 57-year-old actor shares his insights into the great man.
TV Insider: You've played many revolutionaries in your career: Benito Mussolini, Pancho Villa, Che Guevara and now Pablo Picasso. Is there a rule-breaker lurking inside you?
Antonio Banderas: I suppose there is a bit in a guy who goes to America without speaking English and starts doing movies without knowing what he was saying. So, yes!
What did you learn about Picasso?
I learned that there are many different Picassos, depending on the [viewpoint of the] friend, lover or colleague who described him. He transformed himself like he transformed his paintings. Sometimes he was cruel and other times he was very lovely. But artistically he was absolutely sincere and honest in everything that he did until the moment he died at age 91.
Some say his singular focus on his work led to his being cruel to the many women in his life.
He was a very talented man who was very famous, very respected and very rich. All that power pushed him to do the one thing he really wanted, which was art. For that, he needed continuous stimulus and he became a little bit of a vampire in a metaphorical way. He sucked from the lives surrounding him, among them his wives and lovers. I don't see him as an abuser, but he damaged them because he was unfaithful. I tried to portray the human being who had moments of lightness and moments of darkness.
What helped you get to the core of the man?
I love the way the costumes and prosthetics help me. Picasso was shorter than me [5'4″ to Banderas's 5'9″], so the costumes help to cheat the eye. And sometimes I spent hours in the makeup chair. But I mostly wanted to create the character from the inside.
The premiere focused on Picasso's most famous painting, Guernica.
Do other episodes focus on one piece? No, it's more about how events in his life were mirrored in his art, from his young and hungry self to later, when he was more successful. But of course many of his most famous paintings do figure prominently into the story: La Vie, Les Demoiselles D'Avignon, La Femme-Fleur, to name a few. Episode 8 centers on the ballet Parade, which Picasso designed and where he met his first wife, Olga.
Did an artist replicate Picasso's works, or are they photos of the real paintings?
The artworks were created from [licensed] digital files of the real paintings. Sometimes I shot with a green screen so it could be placed in later, or sometimes I shot with a real print made from the digital files. The quality is so good that at the end of shooting, we had to burn all the paintings!
How did you train for the painting scenes?
I copied two of his paintings. I am not a painter myself, but I wanted to do it to be familiar with the tools—the brushes, the acrylics, the oil—so it wouldn't be strange when I'm painting in front of the camera.
Did you film in any of Picasso's old haunts?
I insisted we shoot in Málaga. To understand Picasso, you have to understand the light there. We filmed in the house where he was born, the church where he was baptized and the bullring where he watched bullfights with his father. It was very special to me, and for the town, to film those scenes in Málaga.
Genius: Picasso, Tuesdays, 10/9c, National Geographic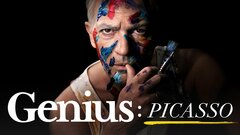 Powered by