'Genius' Sneak Peek: The Case of Picasso and the Stolen Mona Lisa (VIDEO)
We know lots about Pablo Picasso: his many, many women, and, of course, art, the most expensive of which sold at auctions for $179 million in 2015. But the Spanish modernist is a piker next to Leonardo da Vinci, whose portrait of Christ sold for $450 million.
In a strange twist of fate, the two iconic artists' paths kind of cross in Tuesday's Genius: Picasso on National Geographic. It seems that in 1911, young Picasso (Alex Rich) and his carousing buddy poet Guillaume Apollinaire (Seth Gabel) were accused of stealing the Mona Lisa from Paris's Louvre museum several weeks earlier. And, oddly enough, there was some reason to suspect the pair.
To whet your appetite about this bizarre chapter in Picasso's life, we have an exclusive video clip of the two conspirators, discussing some stolen art in their possession.
Watch the full video below:
Genius: Picasso, Tuesday, May 22, 8/7c, National Geographic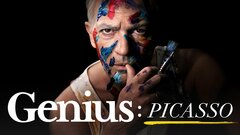 Powered by