Roush Review: 'Westworld' Evolves Thrillingly in Season 2
The first season of HBO's endlessly fascinating Westworld was about evolution, as lifelike and mercilessly abused theme-park androids awakened to the reality of their nonexistence. In the provocative second season — which might require a systems upgrade for viewers to fully embrace its thrilling and deadly complexities — it's all about revolution.
And, refreshingly, female empowerment. Once victimized damsels, frontier goddess Dolores (the luminous Evan Rachel Wood) and madam-turned-avenger Maeve (a sizzling Thandie Newton) are now leading the animatronic charge on separate fronts, discovering new voices and intriguing gifts of command and control. "It won't be enough to win this world," Dolores tells her adoringly naïve soulmate, Teddy (James Marsden). "We'll need to take [the outside] world from them as well."
The robotic former hosts' most menacing human nemesis, the Man in Black/William (sepulchral Ed Harris), relishes the challenge "to see what we're really made of" as he continues playing a deadly game where the stakes are now real, consequences can't be erased with a reset and, as the androids occasionally chant in a chilling mantra, "These violent delights have violent ends." Flashbacks to William's younger self (Jimmi Simpson) provide yet more insight into the park's origins and sinister purpose.
Boldly playing with time and perspective, Westworld keeps you wondering what and who is real, even as dangerous new parks are revealed — including, in the dazzling fifth episode, a Shogun World, where Western archetypes meet their mirror-image Eastern counterparts in a setting designed "for true aficionados of artful gore." Which pretty well describes Westworld's approach to existential carnage.
Like the best science fiction, the series is about much more than the battle scenes, though it's staggering to watch characters created for a bygone era of muskets and cannons withstand a high-tech assault from a modern army. As a dispassionate Dolores observes during the heat of combat, stating another of Westworld's themes: "Truth is, we don't all deserve to make it."
But she is also haunted by what she knows of the world beyond the park's gates: "There's beauty in what we are. Shouldn't we too try to survive?" Since the series lacks much in the way of sympathetic human characters, we tend to agree.
At various points of the new season, Dolores and Maeve declare, "I know how this story ends." I wish I did, though as someone with less intricate wiring, I'm also kind of afraid.
Westworld, Season Premiere, Sunday, April 22, 9/8c, HBO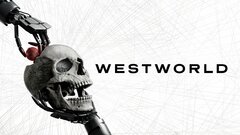 Powered by