Many 'Westworld' Season 2 Episodes Will Be Extra Long
Fans have been waiting over a year for Westworld's second season, and now that's it's (almost) here, we want all the insider scoop.
So, according to showrunners Jonathan Nolan and Lisa Joy, a number of the upcoming episodes will be supersized. Yes, that's right … longer than your typical 60 minutes.
See Also
It's humans vs. androids. Who will rule? Our money is on the machines.
Talking with EW, Nolan said that "The second season the premiere is a little over 70 minutes. The fourth episode — which is one of my favorites — is a little longer than an hour. And the finale is just going to keep going and going — it's a bit of an epic."
Speaking of the fourth episode, it's called "The Riddle of the Sphinx," directed by Lisa Joy herself, and written by Gina Atwater & Jonathan Nolan. This episode reportedly will be the first time we meet Delos CEO James Delos, played by Peter Mullan.
Westworld, Season 2 Premiere, Sunday, April 22, 9/8c, HBO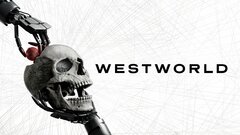 Powered by