5 Memorable Darlene & David Moments From the Original 'Roseanne' (VIDEO)
Since the Roseanne reboot's premiere, fans have been anxious to see what familiar faces would pop-up alongside the original returning cast and in this week's episode — "Darlene v. David" — they're in for a treat.
Johnny Galecki returns as David Healy in the highly anticipated installment which will see him reunite with the Conners for better or worse. Clearly things aren't perfect between Darlene (Sara Gilbert) and David, but their onscreen connection isn't lost on the audience.
Of course, offscreen there's certainly no love lost between the pair, who remain good friends today.
In recent social media posts, Gilbert shared some sweet behind the scenes details about how their characters' son was named — they decided over text message. Darlene and David's son is named Mark (Ames McNamara) after David's brother Mark who was portrayed by the late Glenn Quinn.
Johnny Galecki and I naming our son via text back in June. See you on tv tomorrow David ❤️ 8pm ABC #roseanne #namedforglennquinn pic.twitter.com/wL25I5MQf6

— sara gilbert (@THEsaragilbert) April 16, 2018
The actress also shared a clip from their impending reunion on Twitter, writing, "David's back tonight, and not much has changed." Whereas Galecki has shared touching tributes to his longtime costar via Instagram writing, "@thesaragilbert has a true heart that over the years has probably kept me from losing my mind in this industry / town. I love you, Soap."
Since it's always nice to look back on the series that started it all, we're taking a look back on the best moments between the former TV couple in celebration of "Darlene v. David."
1. The first kiss.
"Lies" (Season 4, Episode 21)
2. Darlene asks if David can move in with the Conners.
"It's a Boy" (Season 5, Episode 19)
See Also
Also fans can look forward to a Darlene-David reunion soon.
3. When they pulled a Halloween prank on Roseanne
"Halloween V" (Season 6, Episode 6)

4. Darlene and David's wedding.
"The Wedding" (Season 8, Episode 23)
5. David comforts Darlene after their baby is born prematurely
"The Miracle" (Season 9, Episode 19)
Roseanne, Tuesdays, 8/7c, ABC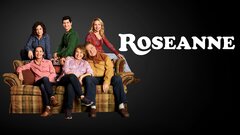 Powered by