'Roseanne' Star Sara Gilbert Talks Politics, the Reboot's Success & More
We've all said something in the heat of the moment. Most of us end up regretting it. But Roseanne star Sara Gilbert had a very different experience. Last March, her former TV dad, John Goodman, appeared with her in a Roseanne-themed sketch on her chat show, The Talk (which she cohosts and cocreated). They reprised their roles as Dan Conner and his snarky daughter, Darlene — now 20 years older.
The pair's chemistry was on point. Then during the show's interview segment, Gilbert impulsively asked Goodman if he'd do a real Roseanne revival. "Oh, hell yes," he replied. Gilbert took the idea to series lead Roseanne Barr, who played her titular TV mom, and the original executive producers. "It moved so fast," Gilbert says. "It was like dry kindling waiting to be ignited."
The show was a go, with Gilbert executive producing and the original cast intact. America's most famous hard-knocks family sitcom — which changed TV 30 years earlier by tackling touchy subjects like birth control, domestic abuse and homosexuality — turned out to be just what the country wanted: 18.4 million people watched the two-episode premiere on March 27. It earned the highest rating for a sitcom in three-and-a-half years, despite featuring tough topics like surrogate pregnancy, gender identity and the country's current political divide. (The series has already been renewed for another season.)
And there's more to come: The Big Bang Theory's Johnny Galecki, who played Darlene's boyfriend (and, later, husband), returns on April 17 to worsen the couple's already bad marriage. (After separating from David and losing her job, Darlene and her kids moved in with her parents.) Future episodes touch on health insurance and opioid abuse. We talked to Gilbert about her new-old hit.
What surprised you most about reaction to Roseanne's return?
Sara Gilbert: The ratings!
How did that feel?
I felt relief. You can believe in something and put your heart into it, but it doesn't always work out. You've got to cherish the moments when you strike a chord with people. I'm honored.
Some viewers threatened to boycott the show because of Roseanne Barr's vocal support of President Trump. Do you think disagreeing with an actor's politics is a good reason not to watch a show?
No. In our culture a lot of people say, "You shouldn't watch this person. You shouldn't talk to that person." Not acknowledging others is not the solution. If we want to get our country back on track, we have to work together. It's misguided for us to continue to divide into two parts with each ignoring the other.
During the first run, Barr had several battles with ABC over the show's subject matter. Did history repeat itself?
I couldn't believe how supportive they were, actually. I told Roseanne that I'd have her back and I'd handle any push-back from the network. And I told ABC that I had their back and would handle any push-back from her. But there wasn't any at all, which was lucky, because as soon as I told everybody I was on their side, I panicked!
Plus, we wanted to be on broadcast TV because that was our original home. Not everybody can afford to pay for Netflix, so we wanted it to be truly accessible. And you don't need to be on a streaming network to be edgy. Roseanne is a family show, and its edge comes from not being afraid to talk about current issues.
How'd you manage to relate to all viewers?
Look, life is hard for everybody, whether they have money or don't. We talk about people who struggle socioeconomically. When we started, there was a lot of glossy TV that depicted perfect families with perfect children. Darlene was not that kid. She struggled with not being popular, with being dark and dealing with depression.
So many teens were like that and they'd never had a voice before. And the series continues to be honest in showing Darlene struggle with this new portion of her life. I would say that few people wake up and say, "My life has gone exactly how I thought it would." She has joy and there are rewards, but there are challenges.
You sound very proud of the series.
I am. It was the process of rebooting Roseanne that made me realize how iconic it is. I feel shy saying it, because I'm a part of it. I thought maybe it wouldn't translate to a new generation or maybe it wouldn't feel current enough. But the show is based on being real — real emotions, real struggles. Somehow, that always holds up.
Roseanne, Tuesdays, 8/7c, ABC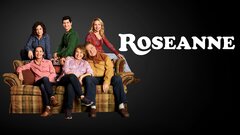 Powered by