Lance Reddick on a Timely 'Bosch' Season 4 & 'The Wire' Alum He Wants on the Show
While the fourth season of Bosch is partially taken from the 1999 novel by Michael Connelly, Angels Flight, it's almost as if the story has been ripped from recent headlines.
The newest chapter in the crime series, streaming now on Amazon Prime, follows homicide Det. Harry Bosch as he investigates the murder of a civil rights attorney murdered on the eve of his police brutality trial against the LAPD.
See Also
Amazon original 'Bosch' returns for Season 4 on April 13.
Overseeing that investigation is newly-appointed Chief Irvin Irving, played by The Wire and Fringe alum Lance Reddick, who opened up to TV Insider about portraying a cop on-screen and learning that for African-American police, you're "always aware that you're black and the most important color is blue."
Reddick also gave us an update on the already-ordered Season 5, talked about the pressure of impressing those loyal Connelly fans, and shared which former Wire co-star he's hoping to get on a future season.
So the case at the center of Season 4 is the murder of a civil rights lawyer in the midst of a police brutality trial against the LAPD. The topic is very timely — was this a choice by the showrunners?
Lance Reddick: I don't know if they picked it because of its timeliness or if they were kind of thinking about it before.
We did talk about it being timely but we never talked about why they chose to do it now.
As an African American man who often plays police on TV, how do you reconcile that?
Going back to when I took the role… I was hesitant about playing another police commander on a television series. Once I decided to do it, it was something that I always kept in the background: What is it to be a black police officer? Especially now. And what is it to be a black police officer of great political ambition within the department now? You have to be of two minds — you're always aware that you're black and the most important color is blue.
Will we see that reflected in Irving's journey this season?
In this season, it comes up [not so much as a personal inner conflict — it's not something you necessarily see him agonizing over on the show. But it does come up. There's a college student who, because of social media, becomes the center of a whole Black Lives Matter-like movement around the protesting in this case. And she and I have a couple of very poignant moments.
It's a little tricky only because it's not The Wire. With The Wire, [creator] David Simon said it point-blank, he said, 'It's not meant as entertainment. I'm happy if people are entertained, but it's really meant as a social-political debate.' Whereas Bosch is noir, with as much realism as possible. The social relevance of it has to do with the storyline and how well the story is told… it's about good storytelling that happens to be topical.
Irving has had a pretty rough go of it in the past with the death of his son and the end of his marriage. Will we see something more positive this time around? He did recently get his promotion.
By the end of Season 3, we realized that the thing he said at the end of Season 2, that he'd only be chief as an interim, that that's gone by the wayside and he's decided to stay. A lot of what we see in Season 4 — and part of it has to do with the nature of this case — is Irving jockeying in his position of power with the mayor and the head of police commission. For Irving, you see a lot of the policies and power playing out.
Sounds a little bit like your character Lieutenant Daniels on The Wire.
Except that the characters are fundamentally different in that Daniels was never completely comfortable with the political stuff. By the end of Season 2, you realize that was more his wife's ambition than his. Whereas Irving is a political animal, he loves of the games of power. So much of policy is driven by the relationship to City Hall and voters. You see that clearly throughout the series of Bosch with Irving, but particularly with this season.
As a Wire fan, I love seeing you and fellow alum Jamie Hector, who plays Jerry Edgar, together on this show. Are there any other former co-stars you want to lure to Bosch?
I'm biased because he's one of my best friends but I'd love to get Andre Royo [who played Reginald "Bubbles" Cousins] on. I know he's busy with his Empire duties and his movies.
One thing that was really great for me was seeing that [in Season 4] they cast Clark Johnson [who played City Editor Augustus "Gus" Haynes] as the civil rights attorney. And I had been hoping that he'd direct some episodes but he hasn't directed any yet. He directed the pilot of The Wire and he directed the very last episode. He's a prolific television director.
Bosch is already renewed for Season 5. Were you surprised by that news coming so early on?
I don't want to speak out of school but the short answer is no. It's a police procedural, but at the same time, it's an incredibly well-done show with gritty realism. So it's one of those things where, as long as we keep doing it right — and people keep loving the show and the huge following that Michael Connelly has from the books — being a renewed is kind of a no-brainer. As long as we don't mess something up, and we don't, to be blunt.
You must get pretty positive feedback from fans of the books.
I haven't met anybody yet who is a fan of the books that didn't like the show — who has watched the show. I've talked to people who didn't think they were going to but then they were pleasantly surprised. The other thing is that last month, I was in London working and I was surprised how many people came up to me about Bosch. They love the show in England.
England does love police dramas. It's a testament to the show that they have their own but they're looking to Bosch.
It's funny you say that because I actually thought that. Some of my favorite crime dramas of the last year have been British — Happy Valley, Broadchurch, Luther.
So it sounds like we can expect to see you back for Season 5. Are you filming already?
I don't know when we start shooting but I'm assuming it's the last week in July or first week in August, only because the last four seasons have been the same week like clockwork. I have no reason to think it'll be different but I haven't gotten an official start date yet.
See Also
The 'Bosch' star breaks down his out-of-character guest spot.
Anything you want to see happen for Irving in the next chapter of the show?
Given how things are left at the end of Season 4, I'm really interested to see what happens with some of Irving's relationships. It gets rough. It gets political, cutthroat, where we're trying to save our jobs and seeing who's going to throw who under the bus. It gets like that.
Bosch, Season 4, Now Streaming, Amazon Prime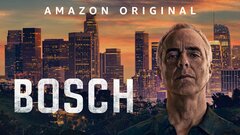 Bosch
where to stream
Powered by