Lin-Manuel Miranda Makes His Debut as Gizmoduck in Disney's 'DuckTales'
Disney's hit cartoon series DuckTales is about to become a lot more melodic as multi-talented playwright, actor, and composer Lin-Manuel Miranda lends his voice to the show.
Starting Tuesday, May 1, the series will air on Disney Channel daily, and will be celebrated with what's being called an "inaugural 'Duck Week.'" The event will kick off on Sunday, May 6, and Miranda will feature in an episode during this special week.
As a lifelong fan of DuckTales, Miranda is overjoyed to portray Gizmoduck who is otherwise known as Fenton Crackshell-Caberera — "Duckburg's preeminent hero who has Latin roots." His debut episode is titled "Beware the B.U.D.D.Y. Syetem!"
"I'm really excited that a new generation of kids will be growing up with DuckTales," Miranda said in a statement. "As a huge fan of the original series, I love that I can share this new version with my sons."
Miranda joins a hefty list of voice talent who will portray classic Disney characters. Doctor Who's David Tennant will play Scrooge McDuck, Community's Danny Pudi will voice Huey while Parks and Recreation's Ben Schwartz is Dewey, and Saturday Night Live's Bobby Moynihan will voice Louie.
Other voice cast members include Kate Micucci (Garfunkel and Oates), Beck Bennett (Saturday Night Live), Toks Olagundoye (Castle), and longtime Donald Duck voice actor Tony Anselmo.
DuckTales, Premieres, Tuesday, May 1, Disney Channel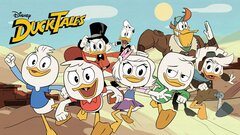 Powered by