Here's Why 'Doctor Who' Won't Return for a Full Season Until 2017
Clara Oswald isn't the only one exiting the TARDIS.
Current Doctor Who head writer and executive producer Steven Moffat has announced that he will be stepping down at the end of the show's 10th season, which will now air in 2017. Broadchurch creator and showrunner Chris Chibnall will be taking over with Season 11, airing in 2018.
"Feels odd to be talking about leaving when I'm just starting work on the scripts for Season 10, but the fact is my timey-wimey is running out," said Moffat in a statement. "While Chris is doing his last run of Broadchurch, I'll be finishing up on the best job in the universe and keeping the TARDIS warm for him."
RELATED: BBC Announces Doctor Who Spinoff
Since stepping in as head writer in 2005, Moffat has ushered in both the 11th and 12th Doctors (played by Matt Smith and Peter Capaldi, respectively) as well as introduced—and said goodbye to—three of the recent companions, Amy and Rory Pond (Karen Gillan and Arthur Darvil) and Clara Oswald (Jenna Coleman). Before he began his tenure at the helm of the show, Moffat was known for writing some of the series' best episodes, including Season 2's "Girl In the Fireplace" and Season 3's "Blink."
Chibnall, who has penned seven episodes of Doctor Who (including "Dinosaurs on a Spaceship"), also served as showrunner of the Doctor Who-spinoff, Torchwood, for the first two seasons and wrote eight episodes for the series. He has been a fan of the time-and-space-travelling show since he was four years old. "It's a privilege and a joy to be the next curator of this funny, scary and emotional family drama," said Chibnall in a statement. "I'm relishing the thought of working with the exceptional team at BBC Wales to create new characters, creatures and worlds for the Doctor to explore."
RELATED: 11 Questions Doctor Who still has to answer
The change in showrunner means there won't be a new season in 2016, only a Christmas special, which Moffat will oversee. One of the reasons for this is so that Moffat, who has served as head writer since 2005, can have a big send-off.
"I have decided to schedule Steven's big finale series in spring 2017 to bring the nation together for what will be a huge event on the channel," explained BBC One Controller Charlotte Moore. "2016 is spilt with national moments including the Euros [European soccer championship] and Olympics and I want to hold something big back for 2017—I promise it will be worth the wait!"
In the meantime, fans can look forward to the premiere of the latest spin-off, Class, which is planned to premiere in fall 2016 and focuses on Coal Hill School. Patrick Ness serves as showrunner.
The Doctor Who Christmas special will air Christmas 2016.
[jwplatform Xw2Hk5iQ]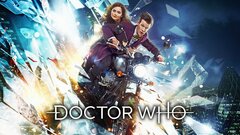 Powered by