'Designated Survivor' Showrunner Gives the Scoop on Michael J. Fox's New Role
Memo to Designated Survivor's President Kirkman (Kiefer Sutherland): Watch your back!
Michael J. Fox joins the ABC drama for a five-episode arc this week to play Ethan West, a crafty, high-powered attorney investigating the beleaguered POTUS's fitness for the job. The verdict? Instant conflict.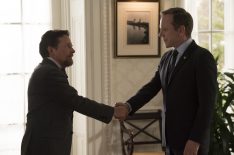 See Also
A sneak peek at the actors' on-screen reunion 30 years after filming 'Bright Lights, Big City.'
"Their approach to power is so different," says showrunner Keith Eisner. "It's exciting to see how this crafty lawyer and common-man president face off."
And they will certainly face off. "Tom Kirkman takes a very personal approach to the presidency because he's not a politician," Eisner explains. "He doesn't think like a politician. Whereas, as a powerful lawyer, Ethan is not above machinations and he has a very different approach for getting to the truth. Nothing is off the table strategically for Ethan and that creates conflict for somebody who doesn't view himself as a player in that way."
Of course, that means the White House staffers should also probably watch their backs. "[Ethan] knows these people are loyal to a fault, and he finds the fault in the loyalty," Eisner warns.
Even so, the odd couple won't be clashing the entire time. When Ethan experiences a personal crisis, he and Kirkman are brought together — at least for the moment. "Ethan's an adversary who becomes an ally who becomes an adversary again," says Eisner, noting that the role was conceived specifically for Fox after Eisner worked with him on creating a very different lawyer on The Good Wife.
As hoped, the industry vet proved to be the perfect foil for Sutherland, a fellow Canadian and his former co-star in Bright Lights, Big City.
"There's a shorthand there and an organic quality to the way they act together, which is rare," Eisner says. "You'll see the chemistry onscreen."
Designated Survivor, Thursday, April 18, 10/9c, ABC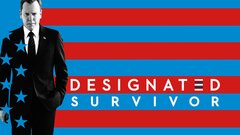 Powered by