Stephanie March Gives the Scoop on Alex Cabot's 'Law & Order: SVU' Return
Alex Cabot just can't quit SVU! Stephanie March's popular former assistant district attorney was a regular for three seasons (2000–2003) with recurring stints sprinkled in after (most recently, 2012). Even off-camera, the character has been a champion of justice.
The explanations given for her absences have included investigating rape in the Congo, training upstate in Albany—even hiding out in Witness Protection when she was thought to be dead. This week, Cabot is back in New York, "more passionate about defending victims' rights than ever," March says.
Below, the actress catches us up.
How does Cabot get involved with her old friend Lt. Olivia Benson (Mariska Hargitay) and the sex-crimes unit this time around?
Stephanie March: They meet accidentally, and rather startlingly. Alex is helping a woman escape a violent situation through an Underground Railroad of sorts. And Olivia is trying to locate the same woman and her child, who are missing persons.
What kind of work is Cabot doing?
I can only say that she's a crusader for victims of sexual violence in a different venue. She still appreciates the spirit of jurisprudence, but now that she's older, she sees more gray and less black and white in the law than she used to.
How did the unexpected encounter go?
It is certainly a happy reunion! The thing I remember the most, though, is that we were shooting the scene in the IKEA parking lot in Brooklyn the day before a blizzard and it was super-super-cold. Mariska said, "Couldn't we have met up in a department store?!"
You've done 97 SVU episodes. Will you make it to the magic 100?
It's a number I'd definitely like to hit. They didn't kill me at the episode's end, so that's a good sign Alex could return. [Laughs] Again.
Law & Order: SVU, Wednesday, April 18, 9/8c, NBC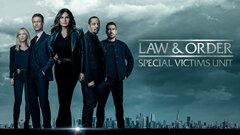 Powered by