'Law & Order: SVU' New Addition Philip Winchester on Raúl Esparza's Shocking Exit
This week's emotional Law & Order: SVU episode seemed to say goodbye to ADA Rafael Barba (Raúl Esparza) after he pulled the plug on a terminally ill baby in the midst of a heart-wrenching right-to-die case.
Though Barba was exonerated of murder charges, he tearfully told both DA Jack McCoy (guest star Sam Waterston) and his dear friend Lt. Olivia Benson (Mariska Hargitay) that he had to "move on."
"It has truly been an honor writing for Raúl," says SVU executive producer Michael Chernuchin about Esparza's sudden departure. "The power, sensitivity and morality he brought to the character of Rafael Barba never failed to elevate our scripts.  Raúl is family and we look forward to seeing his talent shine in new projects.  As for Barba, SVU fans may see him again soon."
The episode also introduced Philip Winchester as new cast member Peter Stone, the estranged son of the late Ben Stone, the Executive ADA played by Michael Moriarity on Law & Order's first four seasons 1990-1994. TV Insider talked to Winchester, who originated the character on Dick Wolf's short-lived Chicago Justice, about joining the venerable sex crime series.
When did you get the call to join SVU full-time?
Philip Winchester: Within 48 hours of Justice being canceled, I got the phone call. It wasn't an easy yes or an easy no, because I thought, 'What can I bring to such a well-oiled and established show? One that's still crushing it?' Then they came in with this amazing proposal on what it would be like for Peter Stone to join the crew. There would a lot of tension and so a lot of drama. They've kept their word on that.
You were immediately brought into the canon when DA Jack McCoy (Sam Waterston) delivered the eulogy at Peter's father's funeral. So there you were with a huge photo of Ben Stone, as played more than two decades ago by Michael Moriarity.
It's great because Peter Stone lived in the shadow of his father. I think it's OK for Philip Winchester to live in the shadow of Michael Moriarty, because he was so beyond brilliant and so phenomenal at what he did.
And then you got to do scenes with Waterston! Intimidating?
Talk about coming in and it not being easy! He's such a legend and I had a lot of preconceived ideas but he was so lovely and caring. He walked me through some stuff and shared some stories about his 16 years on the show. So to come in with that sort of person to work across from was a dream come true.
Stone's first case as a special counsel was a difficult one—he had to prosecute Barba for second degree murder. Was it tough coming into the show already pitted against a very popular character and actor?
It was. I didn't know that was going to happen until I read the script. Raul really welcomed me and said, 'Look, let's give them what they want.' We were able to talk about our scenes together and it was a pleasure.
Raul will be gone for quite a while, at the least. Any pressure in filling his spot, even if on a temporary basis? He's such a fan favorite.
I know! People love him. There is and there isn't pressure. I put a lot of pressure on myself because I want it to work, but a lot of it comes down to just the phenomenal writing. Michael Chernuchin and his team of really talented writers have come in and said, 'Look, this is our version and our idea of SVU this year.' And people seem to be really digging it. So, there is pressure there to perform, but also a lot of that is taken off because we're getting such great story lines.
Right from the get-go, Olivia Benson (Mariska Hargitay) is no fan of Peter Stone because he's prosecuting Barba. Stone's up against it again, this time with one of TV's most beloved characters.
It was kind of great because it was like life imitating art. Mariska was learning who Philip was, and I was learning who she was. That was playing out on camera, as well. We really didn't know each other, and the words that the characters were saying to each other were pretty tense and pretty biting. We didn't have that relationship beyond the camera to lighten that. I tip my hat to Mariska for making it so easy because it could've been very difficult.
In the next episode, we'll see Stone's first big case as an official member of the DA's Special Victim's team, where he gets to cross-examine yet another former member of the unit: Brian Cassidy (Dean Winters). What's the story there?
Cassidy essentially blows this slam-dunk case as a witness and, as a result, the tension between Benson and Stone is reignited. He blames her for 'bringing this guy in.' He doesn't know Cassidy is her ex-boyfriend!
Hmm. Will the relationship between Stone and Benson ever thaw out? Stone was pretty hard-nosed on Justice.
I'm going into my fifth episode, and there is a slow, slow melt of the iceberg. But I think that Peter is getting a real education from this new type of law, where the situation and the outcome is not black and white. He's getting schooled by Benson and the SVU team.
Law & Order: SVU, Wednesdays, 9/8c, NBC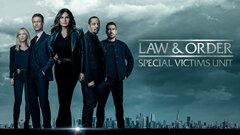 Powered by