Ellen Pompeo on How 'Grey's Anatomy' Is Still a Hit 14 Seasons Later
Debbie Allen was out in Los Angeles recently when a group of excited teens approached her. "They wanted to tell me how much they loved my character and the show," says the actress, who plays Grey's Anatomy's formidable Dr. Catherine Avery and serves as one of its directors and executive producers.
It's a rare accomplishment for a TV series to make it to 14 seasons and 300-plus episodes. It's even rarer when a show not only retains its longtime viewers—11 million and counting—but adds new fans, particularly those in the coveted 18–49 demographic that keep ad dollars flowing. (Grey's is ABC's No. 2 show in this demo.)
Since the drama began streaming on Netflix several years ago, women under 35 and teens have been catching up on the sexy, soapy and sometimes tragic lives of the surgical team at Seattle's Grey Sloan Memorial Hospital. "I'm told that 20,000 teens each month discover Grey's on Netflix and once they've binged there, they find it on ABC," confirms executive producer Krista Vernoff, who was asked by creator Shonda Rhimes to return as co-showrunner this season, after first working on the drama for Seasons 1–7. "My 12-year-old stepson and his friends watch obsessively!"
The enduring success of Grey's Anatomy comes down to two elements, star Ellen Pompeo (Meredith Grey) believes. "Sure, streaming helps so kids can see the original episodes and get hooked, but the fact that the show holds up with a new generation is a testament to how great the cast and the writing have been from the very beginning," she says. "As for our super-loyal fans, they've stayed despite losing great actors because they want to see how those changes affect the show."
And boy, have there been changes. First, Isaiah Washington (Preston Burke) was fired in 2007 after using a gay slur on the set. Then T.R. Knight (George O'Malley) and Katherine Heigl (Izzie Stevens) quit. More recently, fans were outraged by the shocking death of Patrick Dempsey's beloved Derek Shepherd in April 2015. The latest change: Vernoff's pivoting from the "necessary" darkness following Derek's death. "People are wanting more joy and humor now—we need relief," she says.
It's a turn that pleases Pompeo, who admits she wasn't that fond of the last two years. "There are seasons where I've not been optimistic," she says. "But I couldn't walk away just because I didn't like what the character was doing at that point."
Which is good news, since the consensus is that there can be no Grey's Anatomy without Meredith, "the heart and soul of the show," says Vernoff. So keeping the star committed is a high priority. To that end, Pompeo has taken on a producer's role and directed her first episode last March; she'll do another later this season.
Though Vernoff promises that "straight-up comedy" is on the way, one unfinished story from the dark side must wrap up first: the arrival of Dr. Paul Stadler (Matthew Morrison), the abusive husband who caused Jo Wilson (Camilla Luddington) to run away and change her identity years ago. How she and boyfriend Alex Karev (Justin Chambers) cope comes to a head on the January 25 hour. "It is my hope," Vernoff says, "that any audience member who is triggered by this story of domestic violence will be inspired to get help." In the same episode, a disturbing case involving police bias in a young man's shooting leaves the devout April Kepner (Sarah Drew) with a crisis of faith.
See Also
Season 12 has been an eventful one for Meredith Grey.
Kicking off the lighter arc on February 1 is a Dr. Bailey–centric episode that uses flashbacks "to fill in the blanks about why Bailey is the way she is about stability, risk, excellence and anxiety," says Chandra Wilson, who plays the endearingly gruff chief of surgery. It culminates with her current problem—how to deal with her husband, Ben Warren (Jason George), who's leaving the hospital to join the Seattle fire department. (George stars on a still-unnamed Grey's spinoff, which premieres March 22.)
The second half of the season will also provide plenty of romance. There's a potential triangle among Jackson Avery (Jesse Williams), his ex-wife April and stepsister Maggie Pierce (Kelly McCreary). Plus, more complications are brewing for Arizona Robbins (Jessica Capshaw) and new doc Carina DeLuca (Stefania Spampinato), who's also been enjoying some romps with Owen Hunt (Kevin McKidd).
"This is the first time in a long time that Owen's not attached to a significant relationship," says McKidd, whose good doctor has had two failed marriages, suffered from PTSD and learned his presumed-dead sister is alive. "It's been fun to play a more easygoing Owen."
See Also
The hot showrunner on her groundbreaking hit shows
But don't hold your breath for a new love for Dr. Grey, who will focus on her entry in the hospital's new surgical innovation contest. "Meredith's whole purpose can't be filling that spot that Derek left," Pompeo says.
To find out more about what's next for Meredith's romantic journey and the 'end date' Pompeo and Rhimes have in mind for the show, pick up the latest issue of TV Guide Magazine, on newsstands Thursday, January 18.
Grey's Anatomy, Thursdays, 8/7c, ABC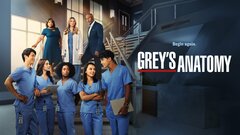 Powered by