Trading Spaces' On-the-Fly Designers Return With Paige, Ty and Twice the Budget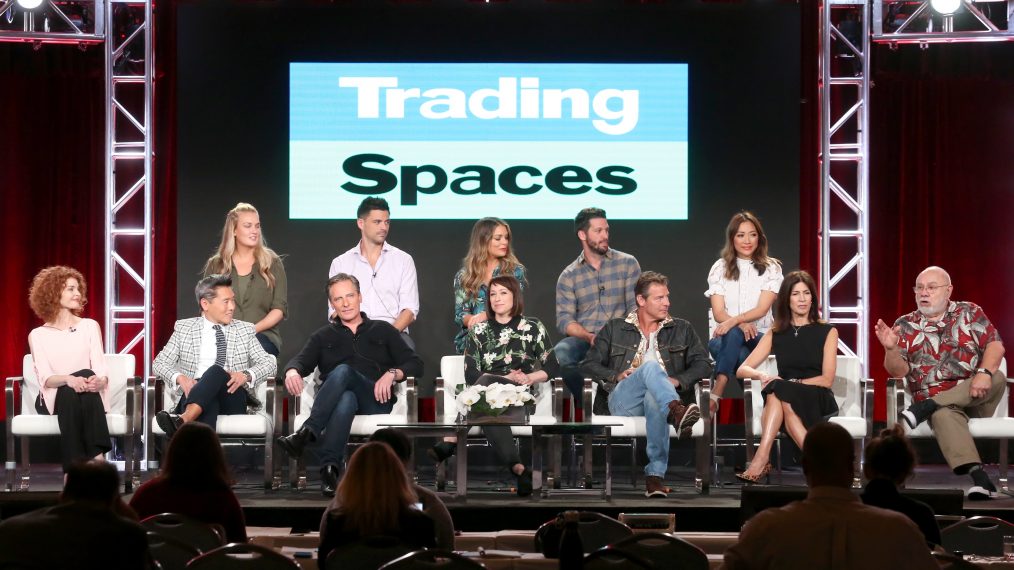 Before there was Pinterest or Instagram or HGTV-obsession, a renegade reality show turned the design world on its ear by turning home renovation over to the masses.
In 2000, TLC debuted Trading Spaces, a paint-spattered fun fest that featured two sets of tightknit neighbors redoing a room in each other's houses with two days, some charismatic pro designers, a thousand-buck budget and stud-muffin carpenter Ty Pennington to help make the magic happen.
Just like that, burlap slipcovers, found-object shelving and yards and yards and yards of fabric draped, you know, wherever became coveted, copied home decor.
See Also
'Everybody who's watching will get to experience us as a family,' promises host Paige Davis.
This month, Trading Spaces returns to TLC, reuniting Pennington, Carter Oosterhouse, Doug Wilson, Hildi Santo-Tomas, Genevieve Gorder, Vern Yip, Frank Bielec and Laurie Smith, plus guest designers John Gidding, Kahi Lee, Sabrina Soto and carpenters Brett Tutor and Joanie Sprague (an America's Top Model finalist!)—to charm longtime fans and woo a design-savvy new generation.
"When I watch the old episodes, I'm always surprised at how much how-to information we gave," grins the show's sunny host Paige Davis, who returns to helm the comfortingly familiar reboot. "I used to always say we were the home improvement show that had nothing to do with home improvement, because we goofed off so much."
Are you ready to talk Trading Spaces? Let's reacquaint you with the cast.
Laurie Smith — The Southern Charmer
Georgia born with titian curls and a soothing drawl, Smith's designs often reflected her own ladylike style. But her fierce loathing of ceiling fans and penchant for makeovers that bit off more than poor Ty could chew kept viewers amused. Smith is also a writer and product designer.
"I was always in awe of the people in airports," says Smith. "Half of them were, for the first time ever, men—husbands coming up and going, 'Hey, I watch your show! I watch a home design show!' … husbands and wives coming up together and saying, 'So, can we just show you a quick picture of our kitchen?'
"It was really thrilling. If husbands and wives want to be inspired again to take care of some cosmetic projects in their house—because that's really in this short amount of time what you can do—then I'm thrilled it's going to inspire again."
Hildi Santo-Tomas — The Rebel
Furniture on the ceiling. Sand on the floor. A mural of her face as living room decor. When the Southern-born, super-chic Santo-Tomas — who now spends her time exploring the world — appeared, homeowners shook in their shoes. And viewers quivered in anticipation of a fireworks reveal.
"Trading Spaces for me has always been about pushing people's imagination and helping the viewers and the homeowners think out of the box," Santo-Tomas says. "Of course, I'm going to challenge myself and continue to push my imagination and give the viewers avant garde things that are unexpected and that possibly you have not thought of.
"But it's to inspire you. Of course, you're not going to go put cardboard or feathers on your walls or sand in the basement or hang your furniture on the ceiling. But by my hanging the furniture on the ceiling, you might paint that one wall the red that you were afraid to do."
Frank Bielec — The Family-Friendliest
If you preferred your abode homespun and cozy, you were dang happy to see Bielec at your reveal. With a penchant for Southwestern hues and artsy-craftsy touches—plus an eye for keeping things kosher for kiddos — the semi-retired Bielec was Spaces' Zen teddy bear.
"I like a half-eaten sandwich some kid left around," says Bielec. "I like some shoes. It was never shown on TV, but if there was a child in the house, I would put one of his toys behind the furniture. There's smells that you are unaware of that kids are — the smell of their pillow, the smell of their blanket or something like that — or the touch, because a child who is very young feels his way around. If their sofa has got a different upholstery, it's gonna feel different to them. But if they see one of their toys tucked behind there, they realize, 'Well this is home. It's just different, but it's OK.'"
Vern Yip — The Sure Bet
Who didn't love a Vern Yip room? Calm as a puddle, and a veritable alchemist with his limited cash and his homeowner's desires, the unerringly tasteful Yip — who stayed in the public eye on various HGTV shows — turned wishes into elegant dream rooms.
"Trading Spaces was a touchstone for people because it made design accessible. It made them realize that they, too, were deserving of good design in their life," says Yip. "Back during the original run of the show, everybody wanted a Tuscan kitchen. Everybody wanted their home to be beige. Now people are like 'You know what? I don't really want it to look like a specific trend. I want it to look like me." That's the interesting challenge all of us have to meet now, which I think is super exciting."
Doug Wilson — The "My Way Or The Highway" Guy
The show's resident sex symbol if you preferred your men more polished than Pennington, Doug liked things sleek, modern and on-trend — even if his homeowners didn't. Take it from him: You do not want shiplap. You don't.
"We're absolutely incorporating items that you can get delivered overnight. But there is a jeopardy in that," says Wilson. "One could order everything for their room and have it shipped and just have the homeowners unbox everything and place it — but that's not our show.
"What we've always prided ourselves in is having the homeowners being hands-on and have projects and buy materials to make things, and rethink an item, repurpose it so that it does become unique. If you just want to open up boxes and place things that are made from a huge manufacturer in your home, that's a whole different show."
Ty Pennington — The Comic Cutie Who Built Stuff
His permatan, bedhead and soul patch made female fans swoon, but Pennington's unfettered sense of humor and willingness to kill a night (and nearly himself) making floors and furniture out of thin air endeared him to folks on both sides of the camera. Pennington also tries his hand at designing this season!
"My first couple episodes, I remember having to have a conversation with Doug: 'Doug, I work with you, not for you. You understand that, right?'" Pennington recalls. "So anyway, he still doesn't understand."
Genevieve Gorder — The Free Spirit
The show's resident beachy blonde famously kicked off her shoes to get down to work, creating comfy, creative rooms with a dash of covetable edge. Boasting her own home-design brand, Gorder also proudly carves out time for human rights causes. Though she wasn't at the press event at which we caught up with the others, Gorder attributes the show's success to an unusual pairing: Our need for home-based comforts in the wake of 9/11—and the love of little viewers.
"We really crescendoed during 9/11," Gorder told AOL in November. "Right after 9/11, everyone was staying home, and we didn't want to spend a lot of money on travel or home, so we became these people that you relied on for that entertainment. Kids are what made us big. We were on after school, [kids] told their parents and then we became primetime. It was the children who brought the show up."
Trading Spaces, series premiere, Saturday, April 7, 8/7c, TLC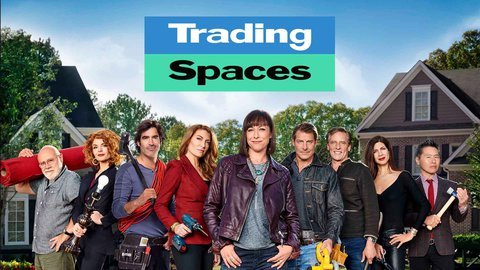 Powered by