'Outlander': Lord John Grey Gets Emotional Talking About Jamie in Season 3 Bonus Clip
This might be one of the most tragic one-sided love stories in TV history.
Lord John Grey (David Berry) is head-over-heels for highlander warrior Jamie Fraser (Sam Heughan), and, for obvious reasons given the time period, he has to keep his feelings under wraps.
Although, in an Outlander Season 3 bonus clip that will be available on that season's upcoming Blu-ray/DVD release, and posted recently at Entertainment Weekly, Grey wears his emotions on his sleeve while talking about the red-headed Scot to his soon-to-be wife Isobel (Tanya Reynolds).
Grey is explaining to Isobel how he lost another game of chess to Jamie, but the conversation actually has much more meaning behind it.
To catch up on Outlander make sure to pick up Sony's Blu-ray and DVD release of the time-traveling drama's third season, available Tuesday, April 10.
The fourth season of Outlander is currently in production in Scotland, with Sassenachs hoping for a fall 2018 premiere date.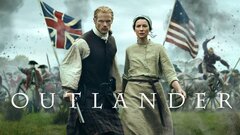 Powered by