'Outlander' Season 4: Will Frank Randall Return?
Outlander's third season might have reunited time-traveling lovers Jamie (Sam Heughan) and Claire (Caitriona Balfe), but along the way, fans also lost a vital character: We had to say goodbye to Frank Randall (Tobias Menzies), Claire's first husband who lived in 20th-century Boston.
He perished midway through Season 3, after being involved in a terrible car crash. No, Frank wasn't perfect. He had an affair and was planning on leaving Claire. But he did raise and love their daughter, Brianna—whom he knew wasn't his biological child—and supported Claire's career goals to become a doctor.
It should also be noted that Menzies played double-duty on the Starz series. He also portrayed Outlander villain Captain Black Jack Randall in Seasons 1 and 2, but that character was eventually killed by Jamie during the Battle of Culloden.
Nonetheless, Menzies' departure (as Frank) was a tearjerker. Interestingly, however, his character's journey may not be over quite yet.
See Also
Will the identity of the kilted stranger be revealed?
According to The Hollywood Reporter, who chatted with Outlander stars and producers at a panel event in Los Angeles, Season 4 may indeed include Frank. Executive producer Meril Davis said, "You might see Frank come to our shores again.
"In the books, there's often flashbacks of Claire's relationship and there are moments of Frank and Brianna's (Sophie Skelton) relationship that we didn't get to see. We love Tobias and I know not everyone is team Frank, but he's so much fun to play with. So yes, we might see him again," she continued.
Executive producer Ronald D. Moore added, "You won't really be seeing Black Jack again this season."
Outlander, Season 4, Fall 2018, Starz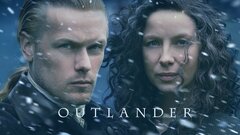 Powered by