Duffer Brothers Sued for Allegedly Stealing 'Stranger Things' Concept
UPDATE (4/5/18):
Only hours after a lawsuit against Stranger Things creators Matt and Ross Duffer went public, the brothers have made a statement about the matter.
The writers were accused by filmmaker Charlie Kessler of stealing ideas he claims to have presented to the brothers. Kessler implies that the brothers rifted off of his 2012 short film Montauk. On behalf of the brothers, their lawyer Alex Kohner issued the following statement in response to Charlie Kessler's case against them.
"Mr. Kessler's claim is completely meritless. He had no connection to the creation or development of Stranger Things. The Duffer Brothers have neither seen Mr. Kessler's short film nor discussed any project with him. This is just an attempt to profit from other people's creativity and hard work."
Netflix have not responded to the accusations at this time.
ORIGINAL STORY (4/4/18):
New court documents have revealed that Stranger Things creators Matt and Ross Duffer are being sued for allegedly stealing another man's idea.
Filmmaker Charlie Kessler is claiming that the Netflix darlings riffed off of an idea he pitched to them at the 2014 Tribeca Film Festival. Kessler's idea stemmed from a short film he made in 2012 called Montauk, which he pitched in an expanded series version titled The Montauk Project.
When Stranger Things was picked up by Netflix, the series' working title was, in fact, Montauk. The idea that Kessler reportedly pitched is based on a real location in Montauk, Long Island, where mysterious experiments supposedly took place on a military base.
The plaintiff in this case also claims his story included a missing child, a cop looking for redemption and supernatural elements, all of which mirror plots in Stranger Things.
Kessler is seeking financial compensation, claiming that the brothers stole his idea. "After the massive success of Stranger Things … Defendants have made huge sums of money by producing the series based on Plaintiff's Concepts," Kessler's lawyer, Michael Kernan, stated in the court document.
While these claims don't help the Duffers' image, which has already taken a hit following claims of verbal abuse on the Stranger Things set, the fact that the show was inspired by the same true story could be their silver lining—there's no limit to how many versions of the same true story can be told. This news comes soon after the pay raise the cast received ahead of the show's third season, which begins production this month.
No word has been released on if this suit will impact filming—Kessler is pursuing an injunction to halt the use of "his" ideas. Neither the Duffer brothers nor Netflix has made any statements regarding the legal actions.
Stranger Things, Seasons 1 and 2 streaming now, Netflix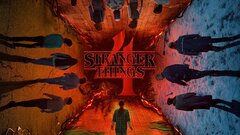 Powered by