'Stranger Things' Kids Get a Major Pay Raise—What They're Making for Season 3
Stranger Things is undoubtedly one of Netflix's most popular series, so you'd expect the stars' paychecks to reflect that, right? Well, if they weren't before, they certainly are now.
In a report from The Hollywood Reporter, it's revealed that the stars of the hit show have received a major pay raise. While the streaming service isn't sharing any secrets about pay grade or viewership, the widespread impact that Stranger Things has had on popular culture is enough to indicate how these deals occurred.
According to the report, adult stars Winona Ryder and David Harbour are expected to earn a whopping $350,000 an episode, whereas the main kids Finn Wolfhard, Caleb McLaughlin, Gaten Matarazzo and Noah Schnapp are rumored to be earning $250,000 per installment. Meanwhile, the supporting teen cast members Natalia Dyer, Charlie Heaton and Joe Keery will reportedly earn $150,000 an episode.
So where does that leave breakout star Millie Bobby Brown? The actress, who has been nominated for a slew of awards—and even won some—supposedly negotiated her Season 3 deal separately from her fellow costars, but it's safe to bet that she'll at least be making the same as her kid counterparts. It would be a leap to say that the young starlet is making the same money that the adults are, but it's presumed that she's making somewhere in the $300,000 per episode range.
Sure, these paydays seem pretty sweet, but they're even sweeter when you learn how much the stars made prior to these negotiations. Indicated in the report, Ryder supposedly made $100,000 per episode, Harbour took in $80,000 and the kids made somewhere in the low $20,000 range for Seasons 1 and 2.
As production for Season 3 is expected to begin starting April 23, this news comes as no surprise. Hopefully, the money is enough to keep our favorite characters sticking around Hawkins; we're not sure if we can handle another Bob- or Barb-type death.
Stranger Things, Seasons 1 and 2 streaming now, Netflix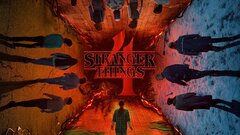 Powered by