Daytime Pick: 'Days of Our Lives' Crazy Split Personality Storyline Amps Up
For soap fans, a multiple personality storyline is cray cray fun, but on NBC's long-running Days of Our Lives, it's a serious way of coping for newlywed Abigail DiMera (Marci Miller), who suffered a mental break after killing evil André (Thaao Penghlis) in January. "The [alter egos] are the character traits she needs to survive and deal with the trauma in front of her," Miller says.
Knowing one of the alters would be based on another character on the show gave Miller some homework. "I just needed to start paying attention to Camila Banus, who plays Gabi," the actress says. "I had to wrap my head around what my version of Gabi would look like."
She further explains that there is a particular reason why Gabi became the inspiration for the Gabby alter. "There are certain character traits that Abigail feels Gabi possesses like being no bulls**t, very strong, powerful, unapologetic about who she is and what needs to be done," she says. "In the moment that Abigail kills Andre, which is the reason for the break in the first place, those are the character traits that she needs just to survive."
Salem seems to have a disproportionate number of these cases. In 1977, Trish Clayton (Patty Weaver) developed Cynthia and baby Lisa. And in 1992, Kimberly Brady Donovan (Patsy Pease) split into bloodthirsty Lacey and Clare. Abigail's alters: sexy Gabby and stern Dr. Laura. Gabby has lured in Abigail's brother-in-law, Stefan (Tyler Christopher, above, with Miller as Gabby), who's infatuated despite her marriage to his brother, Chad (Billy Flynn).
But, as we've already seen on the show, real feelings have actually developed between the Gabby alter and Stefan. What's that all about? "At first, Gabby sees him as a tool, as a person to plant the murder weapon on, frame him and someone she feels she can lure in with her sexuality and manipulate him," Miller says. "But then as things begin to unravel for the Gabby character, Stefan is there and as they spend more time together, they're actually becomes a little more of an actual real life grounded relationship between two people. It's so odd because it's one of Abigail's alters, but from Gabby's perspective, she believes herself to be a whole person, and starts to fall for this guy."
This week, look out for do-gooder psychiatrist Marlena Evans (Deidre Hall) to become a "significant threat," says Miller, just nominated for a Daytime Emmy. "Marlena's got Abigail's self interest at heart so Gabby and Dr. Laura can be integrated and for Abigail to figure out how to operate as a whole person in the midst of all these circumstances. So, for the alters, Marlena does become a significant threat and it kind of becomes Gabby gathering herself and trying to figure out how to stay away from Marlena and from her taking any kind of action that would mean the end of Gabby and Dr. Laura." Violence is an option!
Days of Our Lives, Weekdays, Check Local Listings, NBC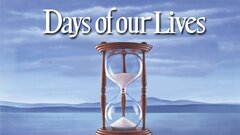 Powered by