Jimmi Simpson Talks USA's 'Unsolved' and Teases 'Westworld' Season 2
USA Network jumps on the true-crime bandwagon with the premiere of Unsolved: The Murders of Tupac and The Notorious B.I.G., a look at the murders of rappers Tupac Shakur and Christopher Wallace, a.k.a The Notorious B.I.G.
The 10-episode limited series, the first season in a planned anthology series, examines the complicated friendship between B.I.G. and Tupac and how their collective genius changed rap music. It also follows the investigations—one in 1997 and a second in 2006—into their still-unsolved deaths.
Jimmi Simpson stars in Unsolved as Russell Poole, the late Los Angeles Police Department detective who investigated Wallace's 1997 death and whose theory of a cover-up by the LAPD led to Wallace's mother to sue to the department.
Simpson says that even people who aren't fans of hip-hop will be riveted by the story of the two lives cut short, and he shares his experience watching the series' first episode with his 70-something father and stepmother. "They just were drawn in by all of it," he says. "They kind of described it as, 'It was like the best cop show I had ever seen, but it really happened.'"
The actor also admits that while "they honestly had no idea who they were; they'd never heard of Tupac or Biggie Smalls," they were deeply moved—especially his stepmother—by images of the young men in the primes of their lives, and knowing the tragedies that would befall each of them.
Simpson shares, "At the end of the pilot, Tupac looks up, and [my stepmother] just, she was just struck by it. This 70-year-old woman who had never heard of this man. Just the image of this kid looking up with all this hope, knowing it's about to get dashed."
Josh Duhamel, Bokeem Woodbine and Aisha Hinds also star in the series. Duhamel plays LAPD Detective Greg Kading, who spearheaded the unsuccessful 2006 task force charged with solving the murders and authored the 2011 book Murder Rap: The Untold Story of the Biggie Smalls & Tupac Shakur Murder Investigations. Woodbine plays Det. Daryn Dupree, who also served on the task force, and Hinds is riveting as Biggie's mother, Voletta. Marcc Rose (Straight Outta Compton) and newcomer Wavvy Jones deliver impressive performances as Shakur and Wallace.
Simpson admits to being an actor who is overly harsh on himself and his performances.
"Westworld, Black Mirror, Unsolved…these projects I've had to do immense preparation for because I believe in the project so much. I don't want to ruin it. I don't want to bring the level down." Simpson reveals, "I left every day from Unsolved feeling like a failure."
The actor also offered a morsel of the upcoming season of HBO's Westworld, revealing, "I pop in."
But when pressed for more info on his character, William, Simpson got shy about spoiling Season 2, saying, "I thought it was already a thing, but now that you're asking, [it] makes me feel like I should just shut up. So I'm not going to say anything else."
Unsolved: The Murders of Tupac and The Notorious B.I.G, Tuesdays beginning Feb. 27, 10/9c, USA Network
Westworld Season 2, begins Sunday, April 22, 9/8c, HBO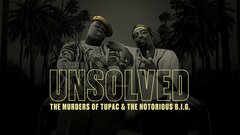 Powered by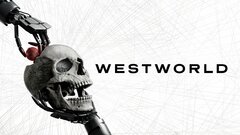 Powered by