'Shadowhunters': Katherine McNamara Teases a 'Bloody-Good' Season 3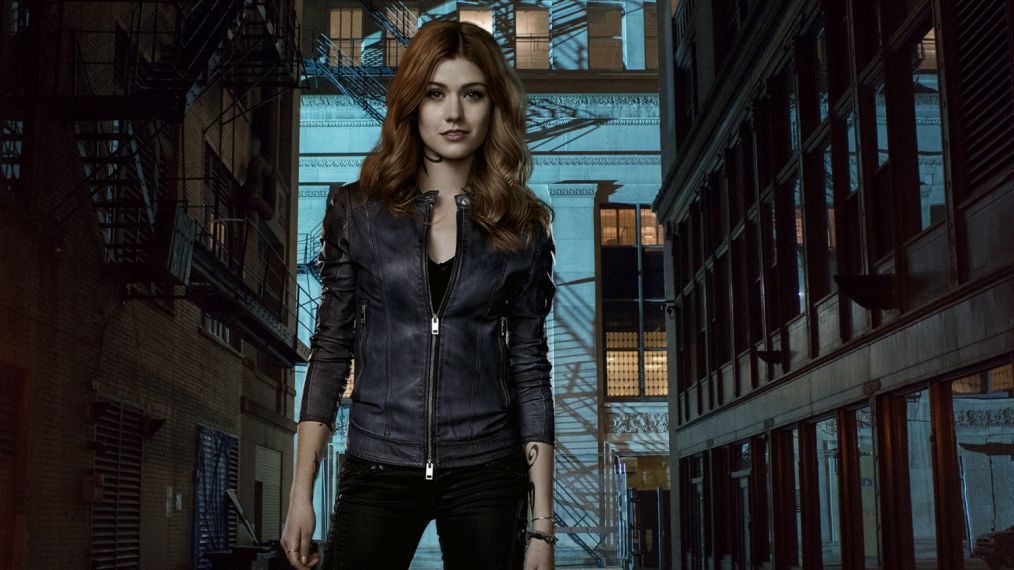 You didn't think that Freeform's fantasy drama Shadowhunters, would mellow in its third season, did you? In fact, to hear star Katherine McNamara (Clary) tell it, things are going to get bloody. Real bloody.
The actress she told us recently that she's never been covered in so much blood as she has in this season of Shadowhunters. And while we'll have to wait to find out why there's so much blood—and whose blood it is—the third season sounds like it's going to be a wild and fun rollercoaster ride for everyone.
During our chat, McNamara also talked about Clary's relationship with Jace (Dominic Sherwood) after he died and Clary brought him back from the dead. (No surprise—he ain't quite right!)
McNamara also addressed who Clary might be leaning on, since she's keeping one heck of a big secret, and—of course—how her relationship is with her BFF, Simon (Alberto Rosende), who has troubles of his own. Let's dive in!
I feel like every season ups the bar on everything, from the storylines to the action. Do you feel that as an actor on the show?
Katherine McNamara: I absolutely do, and I think my favorite thing about being a part of a show of this nature is that everyone in every department is constantly trying to outdo themselves.
We try and accomplish such impossible feats and somehow we make it work. Then the next time we encounter those things, we try and do it better and do it more, whether it's bloody, or scary, or more intense when it comes to the fights, or diving even deeper into these characters and showing new sides of them. Every season continues to build upon itself, and is informed by what we learned in the previous season. I think Season 3 only speaks even more to that.
Did you have a particular challenge shooting Season 3 that you haven't encountered so far? Is there something new they threw at you?
There's been several new things thrown at me this season, but most of them I can't talk about yet. Something I can say, as far as the season premiere goes, I'm one of those people that I thrive when I'm presented with a challenge. I look forward to them, and they're my favorite thing about what I do for a living.
This training sequence that you see in episode one between Clary and Jace, we do what I believe is our first-ever dual wire gag. Where we have more than one person on wires simultaneously, doing things in the air. That was a lot of fun for Dom and I, to learn and to be a part of, and to begin for the show.
Let's talk Clace. We know Jace definitely went through some stuff at the end of last season, and we're waiting to see how that's going to play out. How will we see that impact their relationship?
After Jace died and was brought back to life by Clary using the angel's wish to do so, we see that there's an after-effect on him. We don't know what's happening and we don't know what's wrong with him but we definitely know he's not fully himself. That is going to play through the rest of the season as he continues to struggle with that and as he continues to try and figure out what that is. Clary, being the only one who's aware of the real reason, also struggles with it.
Not only is she trying to help him figure it out with her limited knowledge of the Shadow World but she's also struggling with the fact that she can't tell anyone what happened at Lake Glynn, for fear of not only her, but whoever she tells, including Jace getting in major trouble for it. For example, Alec (Matthew Daddario) continues to press Clary about this and although she wants to tell him it's very difficult for her to come to terms with that because she doesn't want Alex culpable as well.
On top of any of that, Clary once again, feels like it's her fault, and it truly is. If she'd never entered the Shadow World, maybe this wouldn't have happened to Jace. If any one of a series of events hadn't happened, she's responsible for bringing him back. Once again, she has the best of intentions but because she doesn't know that there are consequences, she once again has these consequences to deal with. It really weighs on both of them and affects them both as we move forward.
Does Clary have anybody to lean on? It sounds like she doesn't, which is unusual to see her in that position.
It's true! Before, she's always had Jace and Isabelle and Simon and Alec and all of those people to turn to, but she doesn't now. Somehow, she has to try and figure out and she and Jace have to figure out how to protect everyone else they love, but also handle whatever's coming to them.
We also meet Lilith (Anna Hopkins) in the first episode. On a scale of one to ten, how bad is Lilith?
On a scale of one to ten, I'd say Lilith's about a 100. It's true.
We've seen greater demons. We've seen demons. We've seen evil Shadowhunters. We've seen a lot of things but what we haven't seen yet is the Queen of Hell. She is literally the mother of all demons. If there's a big bad to come this season, it's Lilith, and she means business. If you think about it, we hurt the closest thing she has to a baby in Sebastian (Will Tudor). We've made her list, in other words.
We know Simon's also going through a lot because of the Seelie Queen and that deal he made with her. Is he leaning on Clary much? Are they kind of doing on separate journeys?
Because Simon has made this deal and Clary is dealing with this secret, it separates the two of them for a little bit. We are the best friends that have always been able to lean on each other sort of stranded and dealing with their own issues.
One word to describe this new season?
I'm going to have to use a hyphenated word. I'm going to say it's "bloody-good." Something that I found this season in particular, is a lot of us are covered in blood a lot more often.
Is it that gross syrupy stuff that kind of just sticks to your skin for hours and hours?
Yeah, yeah. Because I'm so pale, I sort of go pink when I try and clean it off. I've been covered in blood more times this season than I have in the rest of Shadowhunters.
That's fun for the viewers. Maybe not fun for you, but we'll enjoy it.
Oh no, it's fun, but I won't tell you whose blood it is. You'll have to wait and see.
Shadowhunters Season 3, Tuesdays beginning March 20, 8/7c, Freeform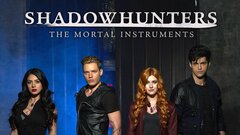 Powered by